The 2020 Democrat Gloves Just Came Off – Bernie Sanders Accuses Mike Bloomberg Of Buying The Election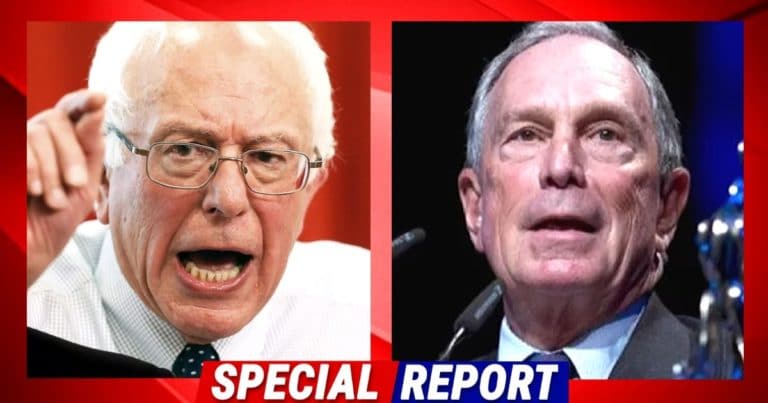 The Democrats tried to play nice with each other during the primaries. But it looks like the fun and games are over.
With Joe Biden all but done, Bernie Sanders is the clear frontrunner. It seems like establishment Democrats are hoping Bloomberg can spend enough money to steal Sanders' crown.
So, the Democratic socialist is forced to take off the kid gloves.
Buckle up, this is about to get wild.
From Breitbart:
"Today we say to Mayor Bloomberg: we are a democracy, not an oligarchy, you're not gonna buy this election," Sanders told the crowd, taking a shot at the former mayor's record, including what Sanders described as his "racist policies like stop and frisk."
During his rally in Tacoma, Sanders blasted Bloomberg—calling him an oligarch with "racist policies."
Looks like o' Bernie is getting a wee bit nervous, huh?
He thought he had the primaries in the bag. Biden was losing steam. Warren was a bust. And little old Buttigieg would not win over enough delegates.
Yet now, Mike Bloomberg is set to spend millions—if not billions—to win over moderate Democrats who don't like Sanders' far-left agenda.
Sure, out-of-work losers and college students like Sanders' plan to take their parents and give them free stuff.
But Americans who have to work for a living don't want Sanders' toxic Medicare-for-all and other policies.
Bloomberg just might win over enough liberals to give Sanders a big headache. Kind of like the one he had in 2016.
So, Sanders is going for the throat. What will Bloomberg do? So far, Bloomberg's only attacked Donald Trump. He's yet to slander his liberal rivals.
But he just might have to, if he really intends to run for president.
Whoever survives this bloodbath will have the impossible job of uniting the party to face off against Trump.
And guess what? Trump is enjoying a 95% approval within the Republican Party. The party is united behind him. That's not to mention the independents and Democrat defectors.
SHARE if you think Trump will beat either of these guys.
Source: Breitbart