Final Major Midterm Update Rocks the Nation – Rundown Shows At Least 10 Races Just Shifted Towards the GOP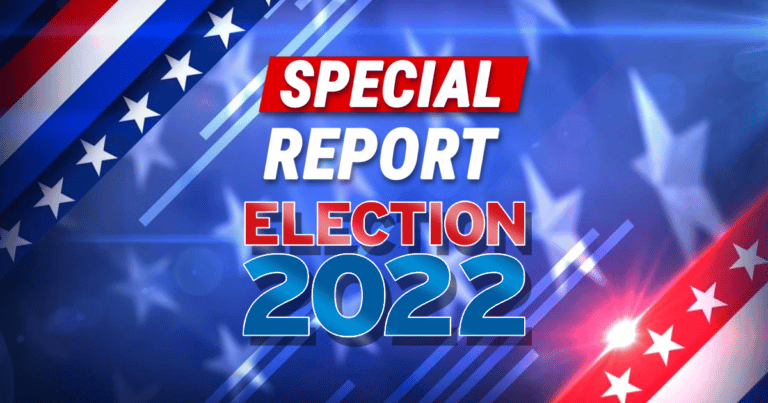 What's Happening:
Democrats are still trying to claim a "red wave" isn't coming. They had a slight bump in the summer when it looked like inflation had stalled and gas prices were receding. But fall came around and inflation still raged–and gas prices are out of control.
The media wants you to believe all the many polls predicting Republican wins are wrong. And all those outlets predicting major Democrat losses (many of which are liberal-run) are making it all up. But they are going to have a harder time pushing that down America's throat. Because more reports are coming in, showing how badly Democrats are doing.
Just look at this news from Utah.
From OANN:
In the latest Emerson College Survey published on Monday, incumbent Utah Senator Mike Lee (R-Utah) leads his independent challenger Evan McMullin by 10 points. The poll also showed that 71% of Republican voters claimed they would vote for Lee next week, with 23% saying they would vote for McMullin.
Utah might have been considered a swing state, possibly going "purple." But not according to this poll, as Trump-backed Lee is crushing his opponent by 10 points. In battleground Nevada, another GOP hopeful is leaving Democrats terrified.
From Breitbart:
Republicans could be on the path to flipping another U.S. Senate seat in Nevada where a new poll has challenger Adam Laxalt up five points over incumbent Democrat Sen. Catherine Cortez Masto.
These polls are showing Republicans widen their leads when previously they were behind. And even in unlikely places, Republicans are gaining steam. Including in one state the Democrats thought they had flipped for good.
From Breitbart:
Jim Schultz, the Republican candidate for attorney general in Minnesota, has extended his lead over Minnesota Attorney General Keith Ellison (D) to seven points, according to a poll.
You might remember Keith Ellison as the radical DNC member who supported defunding police and BLM. And now, he is losing to a conservative Republican by seven points.
In addition to all this, Cook Political Report has shifted another ten congressional races in Republican favor. These are districts Biden won "comfortably" in 2020. Now, Democrats are shocked to find they could be losing much more than they thought.
These districts are in deep blue states including, California, Illinois, New Jersey, New York, and Oregon. Polling and other metrics indicate voters are eager to eject do-nothing Democrats, in light of Biden's titanic failures.
This is the worst-case scenario for Democrats and a huge opportunity for Republicans. This comes just after news that the GOP was aggressively expanding its reach in all 50 states. Looks like that has paid off–at least according to these polls.
Key Takeaways:
Republicans are taking major leads in key races just days before the election.
Cook Political added 10 more congressional races in Republican favor.
Republican candidates in Utah, Nevada, and Minnesota are leading their liberal rivals
Source: OANN, Breitbart, Breitbart