VIDEO: Adorable 7-Year-Old Challenges Her Cop Dad To Pull-Up Contest – You Won't Believe Who Won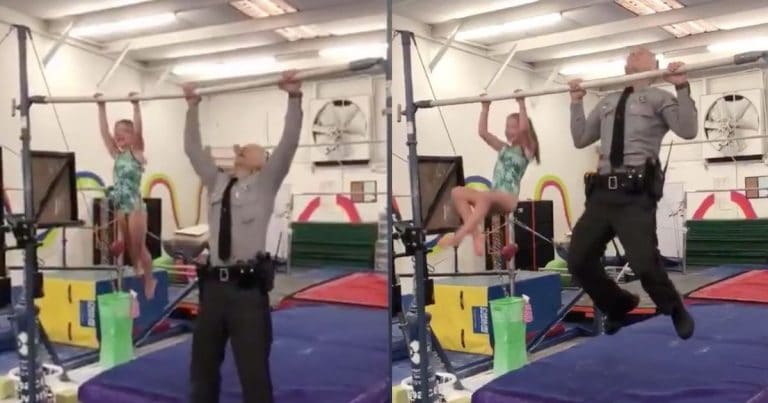 One of the most heartwarming, inspiring vids you'll see all week!
North Carolina State Trooper Brad Marshall has a talented and ambitious daughter.
At only 7 years of age, little Eden is already proving to be quite the gymnast.
In fact, she's SO strong and agile, she was confident enough to challenge her big strong dad…
To an adorable pull-up contest!
It happened when Brad was watching Eden's practice at Hart Gymnastics Academy:
Eden's coach needed help measuring a mat, and then she suggested that father and daughter square off in a test of strength.
Well, the other girls in the Academy certainly liked the idea, and Brad was definitely game!
So, he stepped up to the bar and the match began … and everyone started counting.
The entire match was caught on camera and shared on Twitter by NC Highway Patrol … and it's the sweetest, most impressive video you'll see all week:
@NCSHP Trooper Marshall (Forsyth County) was challenged by a local group of gymnasts to a pull-up challenge in good fun. Despite his hard work (and the fact his duty belt weighed more than his competitor), Trooper Marshall ultimately lost out to a tough young lady. pic.twitter.com/lrAtquGB1M

— NC Highway Patrol (@NCSHP) June 4, 2019