Governor Abbott Levels Flip-Flop Charge At Biden – Joe's Decision To Open Texas Ports "Abandons Border Security"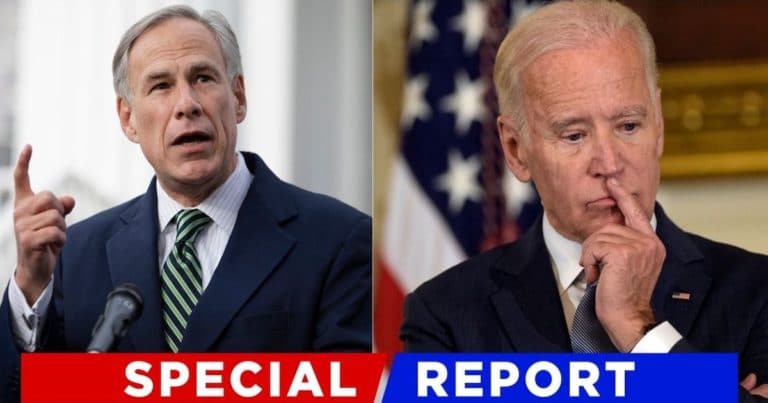 With reports flooding in concerning the worsening border crisis, southern state leaders are once again accusing the Biden administration of sitting on its laurels.
Texas has fought the border battle for most of 2021 and they've warned the government that right now, it's a losing battle. Authorities have been saying for months that the border is close to breaking.
And Biden's latest decision might've just made everything worse.
In his latest attempt to stem the migrant tide, Gov. Greg Abbott shut down six ports of entry with Mexico on Thursday. The Texas leader claimed it was necessary as an emergency precaution.
At the time, he didn't say how long they'd be shut down but it would happen immediately. In a statement to the Examiner, he said:
The sheer negligence of the Biden Administration to do their job and secure the border is appalling.
Unfortunately, the unprecedented move of shutting down the ports never happened.
And that's because it was halted in its tracks — only the D.C. government can close the ports because they're federally operated. And they said "no."
This really got under Abbott's skin, and he quickly penned a scathing response:
Statement on Biden Administration reversing decision to close ports of entry: https://t.co/2esppWH7PO pic.twitter.com/sckvNMzdB2

— Gov. Greg Abbott (@GovAbbott) September 16, 2021
Six hours after the U.S. Customs and Border Protection requested help from Texas to close ports of entry and secure the border, the Biden Administration has now flip-flopped to a different strategy that abandons border security and instead makes it easier for people to cross illegally and for cartels to exploit the border.
The statement also says the Biden administration "is in complete disarray" and they're messing up the border crisis "as badly as the evacuations from Afghanistan."
Gov. Abbott did get a minor victory, though.
The Texas National Guard and Department of Public Safety officers will be on hand at the ports to "deter crossing." But military and police cannot arrest migrants for immigration crimes.
This all comes after drone footage showed thousands of unregistered foreign travelers gathering under a Del Rio bridge. Border Patrol is already saying they're "overwhelmed."
Authorities simply don't have the facilities or resources to process all these people, and there's no knowing how many are slipping through amid the chaos.
Many angry Americans lay all this at the feet of President Joe Biden and Democrat leaders.
They claim the ruling party has no interest in border security at all, and in fact, have no interest in any immigration or citizenship law. At least, that's how it appears to millions of citizens.
At this point, many wonder — what's the point of having any border or laws if none of it works, anyway?
Key Takeaways:
Texas Gov. Greg Abbott initially ordered 6 ports with Mexico to be closed. It was a desperate move to halt the rising surge of unregistered migrants.
The Biden administration then "flip-flopped" and ordered the ports to stay open.
Abbott ripped the President for the decision, saying it "abandons border security."
Source: Washington Examiner