Gov. Abbott Just Blasted Past President Biden – Texas Officially Invokes Constitution's "Invasion Clause" to Deal with Border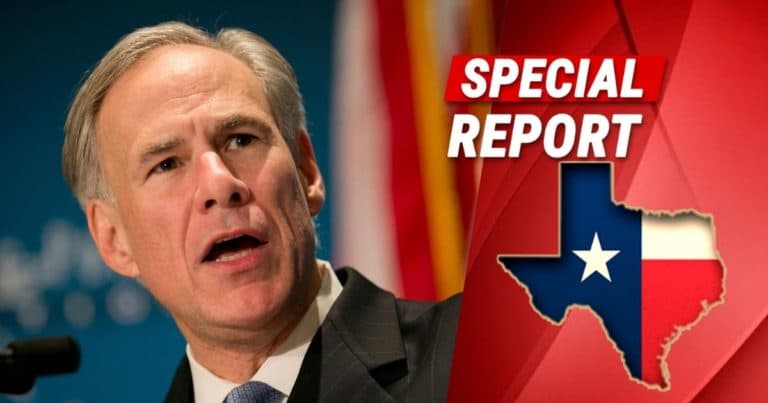 Since the start of President Joe Biden's term, southern states like Texas have experienced historic increases in illegal immigration.
According to many authorities, the border has become completely overwhelmed and CBP and DHS often can't keep up. And yet, leaders claim the Biden administration has done little to address the issue.
That's why Texas is taking matters into its own hands — and that includes invoking a Constitution clause.
In 2022, Texas confirmed they had plans to create a border wall of their own, as the current administration stopped construction on the infamous "Trump wall."
However, they haven't managed to stem the endless tide of illegal migrants, and Gov. Greg Abbott is fed up with the government's lack of action. And the latest DHS report paints a dark picture.
That report shows that a whopping 2.4 million illegal immigrants have been detained at the U.S.-Mexico border during Fiscal Year 2022.
Abbott has had enough, and he's taking action (via The Daily Wire):
Texas Governor Greg Abbott (R) announced Tuesday that he invoked the Invasion Clauses of the U.S. and Texas Constitutions to deal with President Joe Biden's (D) immigration crisis on the southern border.
The newly re-elected Texas leader said in a statement that this action "fully authorizes Texas to take unprecedented measures to defend our state against an invasion."
This isn't the first time the word "invasion" has been used to describe the chaos at the border.
County leaders in Texas have called the border crisis an invasion before, and now it's Abbott's turn. The difference is, this move comes with a slew of commands that should have an impact:
I invoked the Invasion Clauses of the U.S. & Texas Constitutions to fully authorize Texas to take unprecedented measures to defend our state against an invasion.

I'm using that constitutional authority, & other authorization & Executive Orders to keep our state & country safe: pic.twitter.com/2Jt5HEMgp5

— Greg Abbott (@GregAbbott_TX) November 15, 2022
After beating Democrat challenger Beto O'Rourke yet again, Gov. Abbott is taking strides to clamp down on this national security issue.
In the past, Biden critics have said the crisis is even worse than we think, and Texas is on the front-lines — so they're well aware of just how bad it is. And they argue it has a direct impact on the entire country.
Abbott finished by saying:
Texas must continue our unprecedented efforts to secure our border.

Tonight Texans sending a resounding message that we want to keep Texas the beacon of opportunity that we have provided for the past eight years.
Unless more strides are taken to lower the disturbing statistics, expect Texas and other states to continue to battle.
Key Takeaways:
Texas Gov. Greg Abbott invoked the Invasion Clauses of the state and U.S. Constitution to combat the border crisis.
This includes continued building of a border wall, designating Mexican cartels as terrorist organizations, and deploying the National Guard.
Abbott stated that Texas "must continue our unprecedented efforts to secure our border."
Source: The Daily Wire