After Biden Makes Southern Border Promise – Joe Laughingly Says He Hopes to Find "Peace and Security"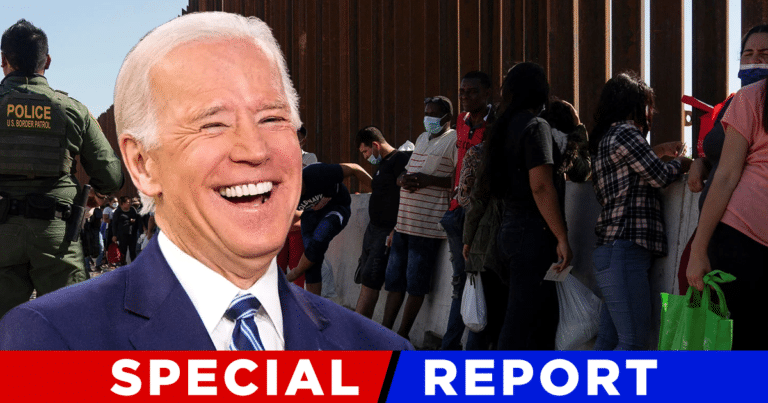 What's Happening:
Americans have been shocked at Biden's cruel disregard for our problems. When asked, not long ago, if he was going to view the Southern border, he said there were "more important" things to do. He has seemingly refused to address the massive national security crisis at our border, letting in millions of illegal aliens.
But, suddenly, in the new year, Biden decided he should take a look at it.
From YouTube:
Huh. So, his "intention" is to view the border? Is that right? Well, they say the road to hell is paved with good intentions. Until he steps foot on the border, the real border, and sees the endless waves of illegals trying to get into our country, I don't believe him.
In fact, he undermined his own "intentions" when he later made a joke about the whole crisis.
From YouTube:
Is this man a total idiot? For over two years, we've seen swarms of illegal aliens jumping our border. The crisis has gotten so out of hand, that even Democrat mayors and governors are bussing migrants to New York and other places.
Yet Biden claims he expects to find "peace and security" at the border? What kind of joke is that? Biden's jokes are really veiled insults. He says this because he is blatantly intending to ignore the border crisis.
Odds are, his administration will drop him off at a spot on the border that is totally under control. He will in no way see El Paso or other vulnerable spots, where millions have trampled over our border. Then he will raise his hands and say he is doing a good job–and go on another vacation.
When are Americans going to wake up and realize this man is no leader? He is just talking mouth doing the bidding of the DNC. Only a fool will think he is going to do anything about the border. Unless Republicans put pressure on this administration, only more illegals will enter the country.
Key Takeaways:
After ignoring the border for two years, Biden claims his "intention" is to visit it.
He soon joked that he expects "peace and security" along our overwhelmed border.
Thanks to Joe, millions of illegal aliens continue to flood our Southern border.