After Biden Promised to Make Saudi Arabia a "Pariah" – Joe Instead Plans to Fly Over There and Grovel for Oil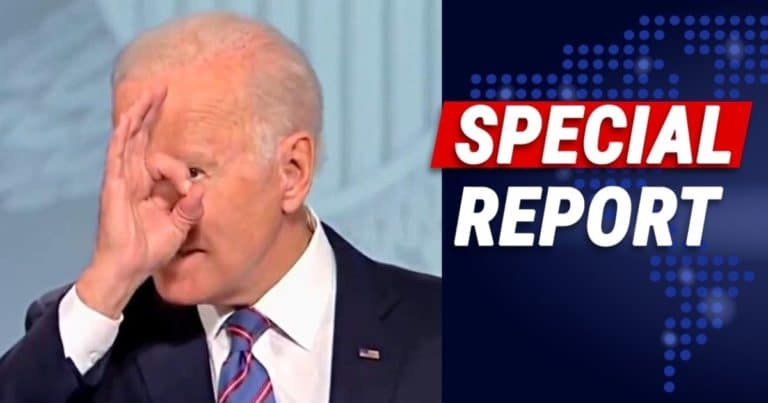 What's Happening:
During the 2019 debates, Joe Biden blasted global oil exporter, Saudi Arabia. The country is the head of OPEC and one of the biggest providers of fuel for the world.
But Biden belittled the country, saying he as president would make them a "pariah."
Now, after two years in office, a gas crisis is potentially dooming Biden's party at the midterms. So, he is going to the Arab country to beg for oil.
From Daily Caller:
President Joe Biden will visit Saudi Arabia in mid-July, the White House confirmed Tuesday following weeks of speculation.

While in Saudi Arabia, the president is expected to meet Crown Prince Mohammed bin Salman, a senior administration official told the press, according to Axios. The upcoming visit is particularly notable because Biden vowed to make Saudi Arabia "the pariah that they are" during a Democratic debate in 2019.
Why It's Important:
How interesting. When Joe was a candidate, with no consequences, he sounded pretty tough against Saudi Arabia.
He boasted that the country (which got along with the U.S. under Trump) would be treated like a pariah, under a Biden presidency.
Jump to today, Biden is flying all the way to them, in the hopes of getting them to drill for more oil.
So… they aren't the pariahs you said they were, huh Joe?
Biden is doing this as gas prices exceed $5/gallon nationally. He has previously vowed to "work like the devil" to lower gas prices.
But the administration has not lifted its ban on drilling on federal land. Nor has it lifted any policies that have limited America's energy production.
The obvious solution would be to encourage more American energy, by removing regulations, fines, and other barriers.
Instead, Biden is flying to a country he previously insulted, hoping they will do him the honor of pumping more oil from their resources.
But why should the crown prince bother to listen to Biden? Previously, Saudi Arabia wouldn't even take Biden's calls.
Now, we are to believe this country will do Biden this favor?
When Trump was in office, Saudi Arabia (and most other Arab nations) literally rolled out the red carpet for him and his administration.
Will we see that kind of treatment for Joe? Will this trip yield any results?
Key Takeaways:
Joe Biden is flying to Saudi Arabia to beg them for oil.
He had previously insulted the nation, calling it a "pariah."
Biden's policies have limited American energy production.
Source: Daily Caller