After Bud Light CEO Gets Chance to End Boycott – He Shocks Americans with His Answer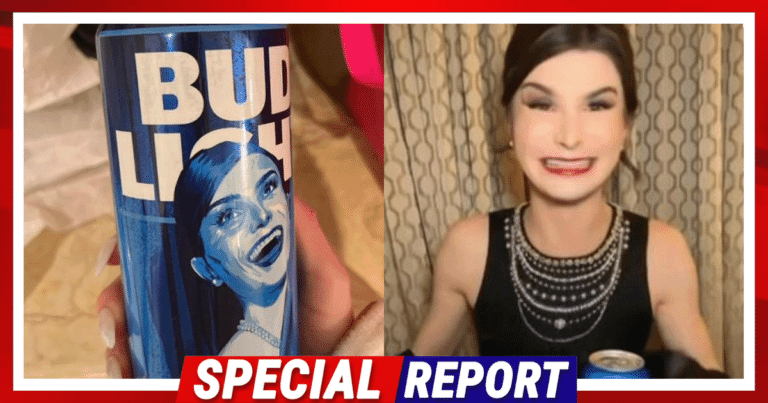 What's Happening:
Well, thanks to a very badly conceived marketing scheme, Bud Light is losing billions. It is no longer the top beer in America. And we can't say if the brand will ever recover. Not only that, but the parent company, Anheuser-Busch, stands to lose even more in the coming weeks and months.
All because they stupidly sided with a transgender personality over their loyal customers.
The company has done little to win back customers. They've tried to pander with camo beer bottles and commercials with horses. But they've yet to openly apologize for taking sides in the transgender controversy. Recently, the CEO of the company was given one last chance to make things right. But this is what he did instead.
From Breitbart:
Anheuser-Busch CEO Brendan Whitworth refused to say if his company would partner with transgender TikTok star Dylan Mulvaney after the massive fallout over the Bud Light campaign…

Asked if the company would partner with Mulvaney again, he did not give a straight answer…

"Bud Light has supported LGBTQ since 1998, so that's 25 years, and as we've said from the beginning, we'll continue to support the communities and organizations that we've supported for decades," Whitworth continued.
Wow. A reporter literally gave Whitworth a chance to apologize for betraying customers and siding with a movement that is growing increasingly hostile to Americans and children. Instead, he refused to give a straight answer.
The reporter asked if his company would partner with transgender figure Mulvaney again. That was an obvious out, Brendan. That stupid partnership has cost your company billions… and counting. Instead, he refused to say the right thing, "No."
Then, he went on and on about Bud Light's history of supporting LGBTQ! Really? This shows you which group Anheuser-Busch really cares about. He didn't mention God-fearing Americans, families, Christians, or folks with traditional views about gender.
He did however go out of his way to say his company supported the gays. That proves where the company's priorities really are, supporting an increasingly radical group that has become violent in the pursuit of its agenda.
Whitworth wasn't afraid of offending Americans, but he was very afraid of offending the so-called LGBTQ "community."
This is how all corporations are today. They are so PC, so "woke" that they are terrified of offending gays–but don't give two rips about traditional Americans, their core customer base.
I guess he wants the boycott to continue.
Key Takeaways:
Anheuser-Busch CEO refused to apologize for Dylan Mulvaney controversy.
Instead, he vowed support for the LGBTQ community, despite massive losses.
Bud Light has lost billions after taking sides with the radical transgender movement.
Source: Breitbart