After Florida Punishes Woke Disney – Ron DeSantis Makes the Nightmare Worse, Officially Destroys Their Self-Governance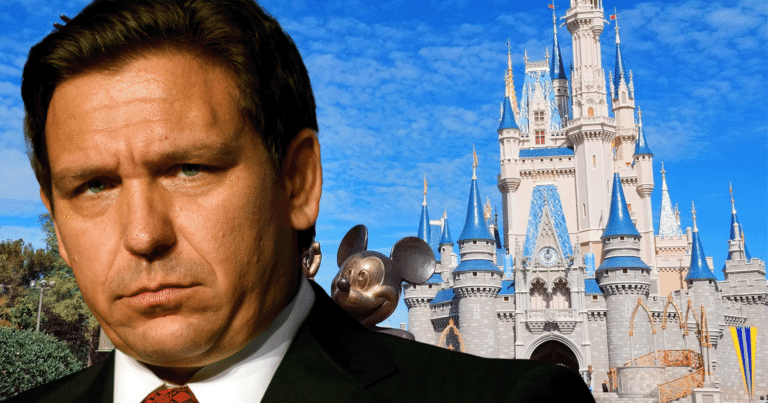 What's Happening:
Disney thought it was powerful enough to oppose a state–and the will of the American people. It was wrong. After Disney went to war with Florida over a conservative, parent-focused law, the company outed itself as a den of radical, far-left socialists. Quickly, Americans tuned out and the company lost billions.
But the fight is far from over. Disney is reeling, forced to "restructure" after losing so much money and supporters in recent years. Now, it will lose the special privileges it had exploited for years–giving the company an unfair advantage. And Gov. Ron DeSantis was on hand to give Disney the bad news.
From Fox News:
Florida Gov. Ron DeSantis on Monday signed a bill into law that ends Disney's self-governing power and puts the media giant under the control of a state board…

"They had exemptions from laws that everyone else had to follow. They were able to get huge amounts of benefits without paying their fair share of taxes."

He added that Disney will be treated like SeaWorld and other theme parks in the state.
BREAKING: Gov. Ron DeSantis officially signs into law the stripping of Disney's special privileges, appointing a state board, and ensuring debts are not transferred to taxpayers pic.twitter.com/sOh1h5NmOD

— Florida's Voice (@FLVoiceNews) February 27, 2023
Boom. That's the sound of woke Disney getting knocked down a few pegs. Gov. DeSantis signed a law ending Disney's special elitism in the state of Florida. The land on which Disney World sits is being renamed from the Reedy Creek Improvement district to the Central Florida Tourism Oversight District.
That means Disney will no longer be able to govern itself, outside the oversight of the state. Previously, it had the power to do plenty of development, without the state providing accountability. In fact, Disney World got to rake in the big bucks, often pushing its tax burden onto residents.
Now, the park will face accountability from a five-member board. It will face the same scrutiny as other major theme parks in the state. Disney World can still operate, expand, welcome guests, and make money. But it can only longer act as if it was above the law, enjoying perks while attacking the Florida government.
This is a huge blow to a company already reeling from the fallout of its own foolish decisions. Just think, had Disney not bothered to try to overturn the Parental Rights in Education bill, none of this would have happened.
But the California-based company decided it had more power than the people of Florida. It thought it could import its "woke" immortality onto Florida, defying the will of residents and voters. Now, Disney is learning the hard way that their California brand of socialism isn't going to fly in the Sunshine State.
Key Takeaways:
Florida Gov. DeSantis officially signed the bill revoking Disney World's special status.
The theme park will face new oversight and pay its share in taxes.
This comes after Disney tried to interfere with Florida legislature, fighting a bill protecting families.