After Kamala Gets Booed at March Madness – She Drives Her Own Alma Mater Nuts with Locker Room Speech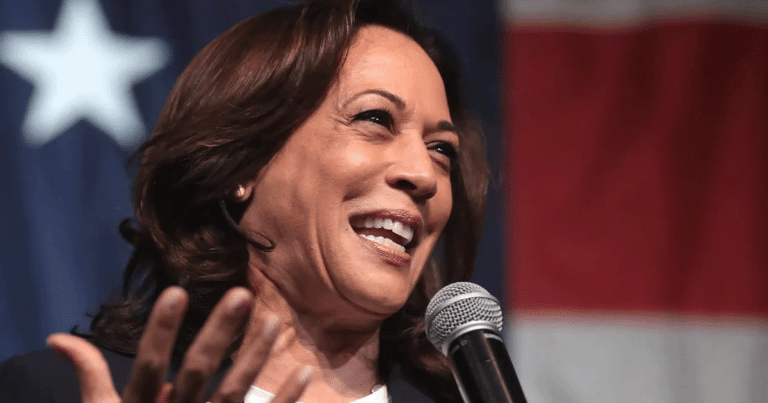 What's Happening:
Well, Kamala might not do much as vice president. But at least she gets to enjoy the perks of being famous. After doing nothing for two years, Biden's right-hand woman got to enjoy watching a heated college basketball game during the March Madness playoffs. During the game, she popped up on the screen.
From Fox News:
Howard and Kansas played at the Wells Fargo Arena in Des Moines, Iowa, and when Harris appeared on the video board, she received an icy reception. According to multiple reports, the boos outweighed the cheers from the fans.
Sadly, Kamala's alma mater, Howard University, lost to the defending NCAA champions. But their suffering was made much worse, when the braindead former senator showed up in their locker room for a "pep talk."
From Fox News:
"You played hard. You played to the very last second. You made all us Bisons proud," she said. "You are smart. You are disciplined. You put everything you had into the game. You guys did not stop, and that is so inspiring. So you keep playing with chin up and shoulders back because you showed the world who Bison are.

"So I know you may not be feeling great right now, OK, but know who you are. You are excellence. You are hard work. You are powerful, and you are winners."
Lol. I love how they posted this short speech and posted it on YouTube. I'm sure Kamala herself wanted the cameras there, to document her magnificent moment. But Kamala ain't Obama, let me tell you right now.
And her "inspiring" speech was just more of her nonsensical drivel. What does "You are hard work" means? Hey Kammy, these guys just lost! They are not "hard work" or "powerful." They are losers who were beaten by nearly 30 points.
Something tells me none of these guys are being drafted by the NBA anytime soon. I hope they all have degrees to fall back on!
What's worse was when she switched in and out of her practiced, contrived "urban" accent. You know, Obama was good at finding a balance between having an urban-sounding way of speaking, but also coming off as a Harvard grad.
But Kamala–who is trying so hard to be Obama 2.0–just can't master it. Hell, she can't master basic sentences. Even her boss, braindead Joe, can do better than this!
Key Takeaways:
Kamala Harris was booed by fans during a March Madness game.
After the game, she spoke to the losing team from her alma mater.
Her confused, embarrassing speech said nothing and did nothing for the players.