After "Missing Melania" Flyers Appear – Trump Nails 1 Opponent With a Heavy Accusation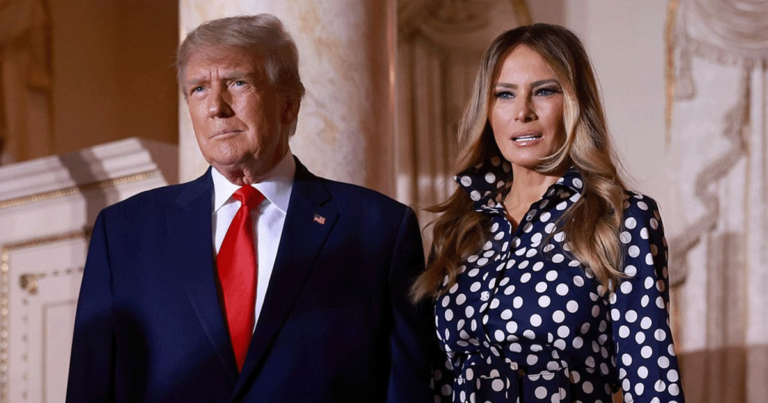 What's Happening:
While he served in the White House, Donald Trump was frequently seen beside his wife, First Lady Melania. Mrs. Trump played a key role in the Trump administration, spearheading improvements to American students' education.
But since Trump left office, we've seen little of his wife. Melania has rarely appeared at campaign events or rallies. This perhaps sparked the unusual appearance of fliers with the words "MISSING" above Melania's picture. These fliers were found at a recent Iowa State football game, at which Trump attended. And now, Donald Trump is pointing the finger at his top rival.
From The Express:
Since departing the White House alongside the four-times indicted former president back in January 2021, the former first lady, Melania Trump, has largely remained out of the public eye.

This prolonged absence has given rise to speculation and even led to a plane flying over the Iowa State game with a banner that questioned: "Where's Melania?"

Now, Trump has taken to Truth Social to share an article penned by far-right activist Laura Loomer.

In the article, Trump asserts that "DeSantis's campaign staff passed out flyers attacking former First Lady Melania Trump."
Missing Person-style fliers were allegedly handed out during an Iowa State football game. Above the stadium, a plane flew a banner that said, "Where's Melania?" Trump appeared to respond to the story by posting an article to his TRUTH Social page.
The article alleges that Ron DeSantis's campaign is behind the fliers asking about Melania Trump's whereabouts.
Recent reports, citing close Trump associates, have stated that Melania is providing support for Trump. She has been his "rock" according to some, providing "peace and sanity" during recent months.
But Melania has seemingly stayed away from the public spotlight. The last photograph taken of her was at the Mar-a-Lago New Year's event in December of last year. In 2016, Melania was a constant presence for the Trump campaign.
It appears, however, that Melania is stepping away from engaging with the campaign. Trump's daughter, Ivanka, has also refused to participate in Trump's 2024 election efforts.
At the time of this writing, the DeSantis campaign has not taken credit for the fliers.
Key Takeaways:
Missing Person fliers with Melania Trump's face were being circulated at a recent Iowa State football game.
A plane flying a banner with the words "Where's Melania" flew over the stadium.
Trump appears to be accusing Ron DeSantis of the scheme, based on an article.
Source: The Express