After Trump Orders DeSantis to Quit – Ron Surprises His Fans with His Response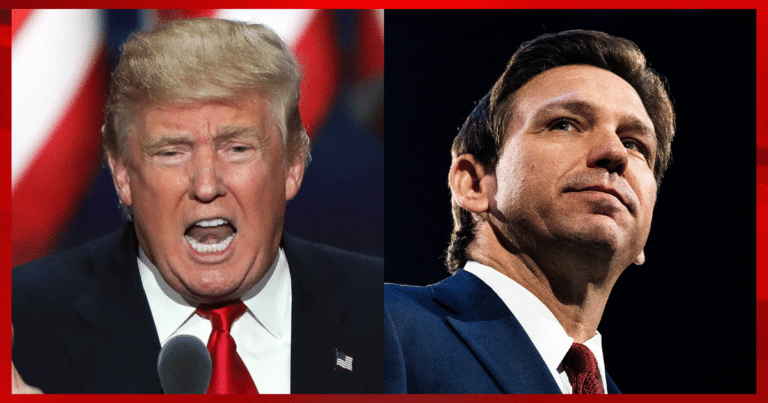 What's Happening:
The GOP primaries got shaken up after Democrats indicted Trump… three times. Chances are, they'll indict him at least once more, over a case out of Georgia. This scheme has backfired, as Republicans rally around Trump (based on the polls). But there are still numerous contenders who are fighting for a chance to represent the party in the 2024 Election.
A top contender is Florida Gov. Ron DeSantis. Trump is clearly worried about this popular Republican and has attacked him frequently. Trump even recently accused DeSantis of not being "loyal" to the party and has ordered him to drop out of the race. Well, the Florida Republican has finally responded. And Trump won't like this one bit.
From Daily Wire:
"And it is interesting. He doesn't say that about his own vice president running against him, he doesn't say that about his ambassador to the U.N. running against him," he continued. "He does not say that about other people he endorsed in the past, who are now running against him…

"We're a republic, we are not a monarchy, it's nobody's turn," DeSantis said.
Woah. DeSantis slammed Trump's claim that he is "disloyal" for running against the former president. Trump has made a big deal about DeSantis's asking for support in 2018. Trump claims that DeSantis would have lost if he hadn't given him an endorsement.
Trump seems to be forgetting that DeSantis was running against a radical socialist in 2018. Also, that DeSantis was such an effective governor, that he flipped Florida from "swing" status to a clear red state. And that DeSantis won re-election by a million-vote landslide, without Trump's endorsement.
DeSantis rebuked Trump saying he is loyal, not to a man, but to his family, the Constitution, and God. He hit back at the former president, saying that America is not a "monarchy" and that it's "nobody's turn."
The Florida governor also pointed out that Trump isn't remotely as harsh with other former allies running against him. Trump doesn't attack Nikki Haley, his former UN ambassador. He doesn't say a bad thing about Mike Pence, his former VP. Nor does Trump question other candidates' "loyalty," despite seeking his endorsement in the past.
It seems Trump saves all his anger for the one man that can challenge his nomination. As it stands, we can't claim who will get the GOP nomination. But one thing's clear, DeSantis is in no way backing down, despite what Trump says.
Key Takeaways:
Ron DeSantis hit back after Trump called him "disloyal" and wanted him to drop out.
DeSantis said that he was loyal to his family, God, and the Constitution.
He criticized Trump's attack, saying America is not a "monarchy."
Source: Daily Wire