Alexandria Announces 'Green New Deal' – Her Price Tag Will Bankrupt America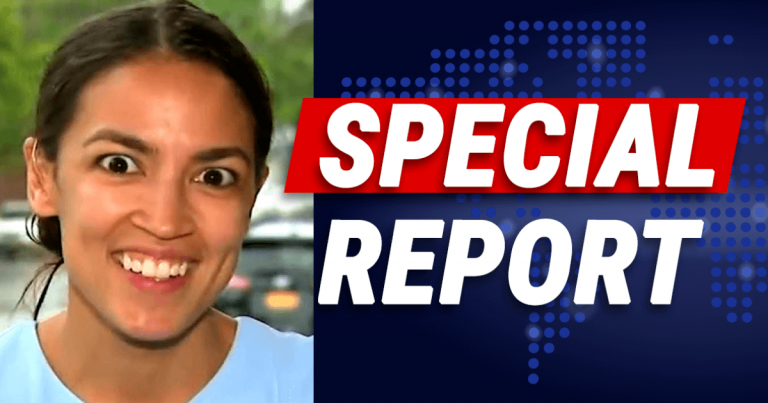 It's almost as if Democrats want America to fail – and the cost of their grand plan would do it.
The liberal media love Alexandria Ocasio-Cortez. The rest of her party does not.
This novice lawmaker has made ridiculous promises. Promises that will ruin the country.
And even though many in her party are upset, she's determined to destroy both their reputation and the future of our country in one fell swoop.
From Fox News:
Rep. Alexandria Ocasio-Cortez, D-N.Y., and Sen. Ed Markey, D-Mass., are preparing to introduce "Green New Deal" legislation — marking a big step forward in the push to implement a massive package of big-government programs aimed at radically transforming the American economy…

The plan goes well beyond environmental measures, however, with a laundry list of left-wing promises like a job-guarantee program, basic-income programs, universal health care "and any others as the select committee may deem appropriate to promote economic security, labor market flexibility and entrepreneurism."
Obviously, idiot Cortez can only pay for this by massively expanding the size of the federal government.
The bill proposes to combine the Federal Reserve with a new "public bank."
What are the costs, exactly, for this massive program? From Patriot Journal:
The cost of this "New Deal" will be titanic. Just moving to 100% "green" energy would cost $5.2 trillion. (And we have to remind you how inefficient and weak current green energy sources are).

Add on another $3.8 trillion for guaranteed minimum incomes.

Of course, Democrats are pushing the "Medicare for All" idea—their new name for universal healthcare. That alone would bankrupt the U.S.—costing over $32.6 trillion.

That adds up to $41.6 trillion dollars. It makes Trump's $25 billion for a border wall look microsopic.
Mhm, and where will this bank get its funds?
Some have said this deal will raise the tax rate to a staggering 70%. How would you like that?
SHARE if you're ready to kick the Socialists out of the country in 2020!
You work your butt off at a thankless job to support yourself and your family. Only for the government to take 70% of your money and give it to people who refuse to work.
Anyone with a brain will know this kind of bill will never pass while Donald Trump is president.
So why does stupid AOC push it at all? Because she and the rest of the Democrats are pushing Socialism more and more.
Their reaction to Trump's massive success is to push the exact opposite policies. Extreme policies that would mean the death of capitalism, limited government, and personal liberty.
Because if you can't earn a living on your own, you aren't free.
Say goodbye to a booming economy, job opportunity, and prosperity. Say hello to a United States that will look like Venezuela.
A country where a loaf of bread will be a luxury.
But hey, Cortez doesn't care. She'll be sitting pretty with her comfortable salary, government perks, and fame from the liberal media.
So, what if the rest of us starve?
SHARE if you're ready to kick the Socialists out of the country in 2020!
Source: Fox News