Top Democrat Alexandria Loses It On Live TV – Her Short Career Could Be Over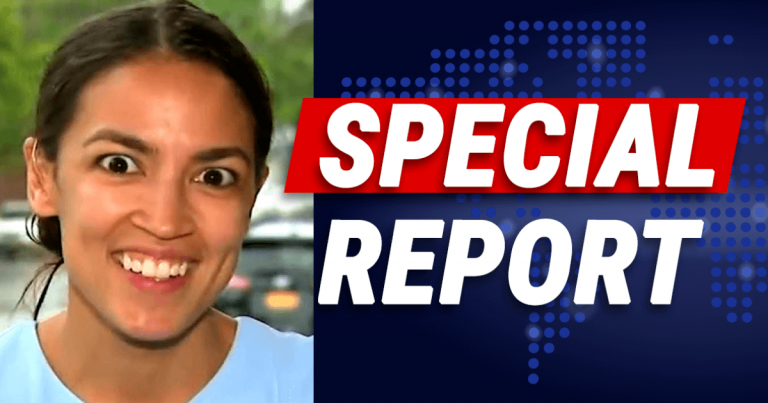 The Democrat rising star AOC is plummeting after she admits what she really thinks – she's not just a socialist.
Democrats really can't help themselves. They pretend to be smarter, better, and more moral than the rest of us.
But without clever, Hollywood writers, they show how stupid they are.
That's especially true for rising "star" AOC, Alexandria Ocasio-Cortez. Liberals have celebrated this Democratic Socialist as the future of America.
She wants to burden our country with terrible "green" policies and "Medicaid for All."
When given a microphone, she proves how deranged she really is.
From Grabien:
The world is going to end in 12 years unless the government takes action, Rep. Alexandria Ocasio-Cortez (D-N.Y.) said Monday at a Martin Luther King forum in New York City…

"And I think the part of it that is generational is that millennials and people, in Gen Z, and all these folks that come after us are looking up and we're like, the world is gonna end in 12 years if we don't address climate change."

"Your biggest issue is how are going to pay for it? — and like this is the war, this is our World War II.
Ocasio-Cortez continued to ramble on, talking about Americans sleeping in cars and working two jobs.
So, because there are poor people, we should embrace toxic socialism? A system that hasn't worked once in the history of the world?
She called America a dystopia, because of our values and beliefs.
Like Obama, Ocasio-Cortez is pushing climate change as an excuse to expand government power.
It's the hottest excuse for socialism the left has. She's using radical, wild fear mongering to justify policies that will cripple innovation, destroy jobs, and plunge America into economic ruin.
Ocasio-Cortez wants to burden us with a $32 trillion healthcare program. Her "green" New Deal would be worse than all of Obama's environmental regulation combined.
But why does she need facts and logic? She's talking to millennials, after all, who rarely care about reality.
Already we are seeing Democrats try to put Ocasio-Cortez in her place. But the media hasn't gotten the message.
If they go along with her terrible agenda. 2020 will be a slaughter for the left.
SHARE if you want to see climate change alarmists thrown out of office!
Source: Grabien