Alyssa Milano Shows Off Crocheted Facemask – Hours Later, Social Media Pokes Holes In Her Elitist Selfie
Apparently Hollywood leftists are concerned average Americans don't want to wear face masks.
So they're taking Twitter to make their order clear.
One outspoken Trump hater, Alyssa Milano, even tweeted out her demand that we all wear masks: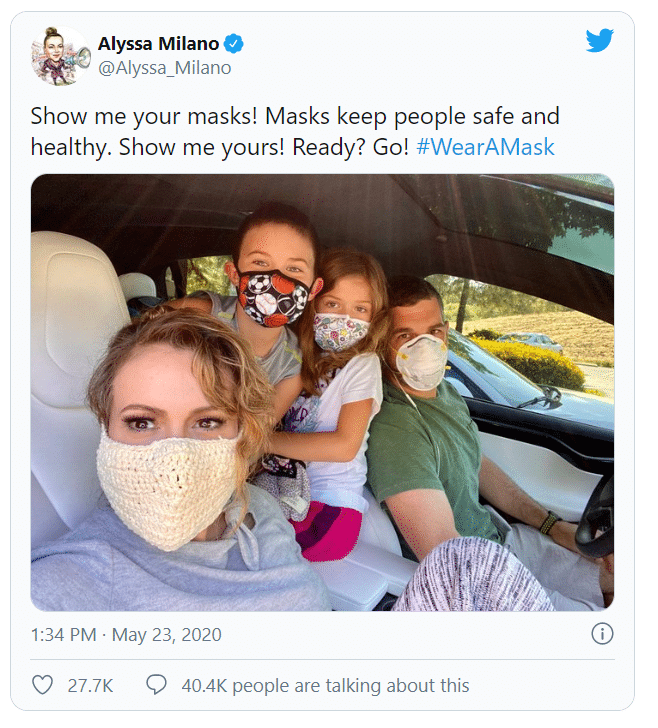 Heartwarming, isn't it? The whole family out for a nice ride, wearing their mas—wait a minute! Is she wearing a crocheted face mask?
Umm… doesn't she realize that ALL THOSE HOLES make it useless for this situation?
Apparently not. But plenty on Twitter did.
From Daily Wire:
"Your mask is exactly what this fence does to keep mosquitoes out," one users said, per Fox News.

"'Masks keep people safe and healthy.' Unless, of course… you wear a crocheted 'mask' with literal holes in it," chimed in another…

Others posted silly memes of people posing with "anti-virus" CD-ROMs and other useless anti-coronavirus measures.
Our Take:
Pretty odd how liberals are now making face masks some kind of political statement.
Do they think conservatives refuse to wear them? Sure, we don't like leftists telling us what to do.
Even less so governors or mayors dictating what we can or can't wear.
But for Milano to think that posting a picture of her family wearing masks is a bold statement is just hilarious.
Especially when her mask is as effective at preventing disease as damp toilet paper.
Is there anything liberals won't say or do… if they think it will slam Trump and his supporters?
They tried to accuse Trump of not wearing a mask while in Michigan. But he was clearly wearing a mask during his tour of the Ford plant.
He only took it off so he could speak clearly to reporters… who were more than six feet away.
Who does Milano think she's attacking?
And why does she think a homemade, crocheted face mask is an appropriate barrier against viruses and bacteria?
The actress tried to backtrack, claiming she had a "carbon filter" inside the mask. Mkay, dear, we believe you.
Just take the hit and move on. You thought you could "mask shame" MAGA people, but you failed.
Maybe next time get a few more N95s for yourself and your family.
SHARE to show off Hollywood's idea of a "safe" face mask.
Source: Daily Wire