Queen Alexandria Lets Her 2020 Plan Slip – She Will Pass Green New Deal By Electing Biden, Senate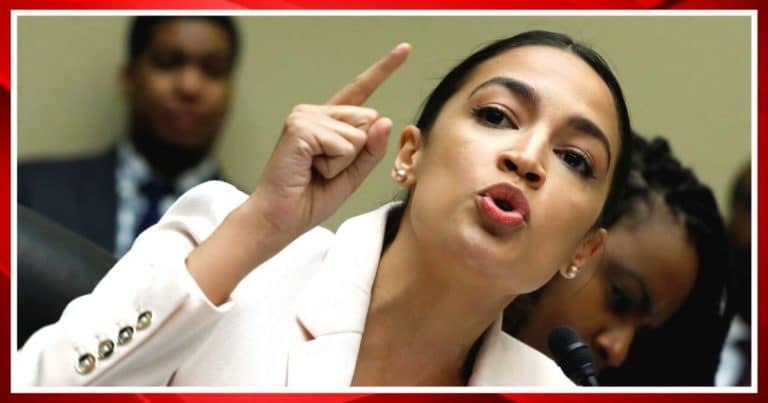 What's Happening:
Alexandria Ocasio-Cortez is a self-described "Democratic socialist." Since entering politics, she has tried to push through one far-left agenda after another.
What's concerning? She may be in a position to finally get them through if her new plan works.
Her most radical proposal, the "Green New Deal" calls for massive changes to our economy and infrastructure. Some critics say it will eliminate millions of jobs.
AOC has also embraced far-left policies like universal income, open borders, and Medicare for all. She has also been a strong proponent of defunding the police; she complained that Mayor de Blasio's reduction of the NYPD's budget by $1 billion was not enough.
Most commonsense Americans don't think AOC will be able to achieve her goals, because Republicans and President Trump wouldn't support her agenda. But AOC is making clear what her plan is—and how she intends to pass it:
Socialist Democrat Rep. Alexandria Ocasio-Cortez says when asked how she plans to pass her far-left agenda: "Our legislative strategy" is to elect Joe Biden.
AOC admitted in a recent video that her "legislative strategy" in getting her plans passed is to get Joe Biden elected to the White House. This is significant because Joe Biden was touted by the mainstream media as the "moderate choice" that could compete with Trump.
But lately, it appears Joe Biden is becoming more and more leftist in his announced plans. He even admitted to supporting the idea of defunding police and giving the money to other causes.
President Trump claimed Joe Biden would be a virtual puppet for the radical left, who would simply tell him what to do.
Early in the primaries, Joe Biden was taking a "middle of the road" approach to major issues. Yet recently, his campaign partnered with Bernie Sanders, embracing a platform very similar to the socialist's.
Add to that the disturbing trend of Joe Biden's mental decline, a President Biden might not even make his own decisions.
If the radical left is calling the shots in Biden's camp, then a President Biden just might rubber stamp any radical ideas put forward by AOC and her allies.
Measures to defund the police, shut down fossil fuels, outsource our economy to China and many other disasters would be signed into law.
Considering Biden's recent stances, that might not be a fantasy.
Key Takeaways:
AOC has recently said her "legislative strategy" is to get Joe Biden elected.
The socialist has famously championed the "Green New Deal," a left-wing takeover of the U.S. economy.
Joe Biden himself is becoming more left-wing, with each passing day.
Source: YouTube