Queen AOC Suffers Major Hollywood Failure – Her New Project Just Ended in 33rd Place Downfall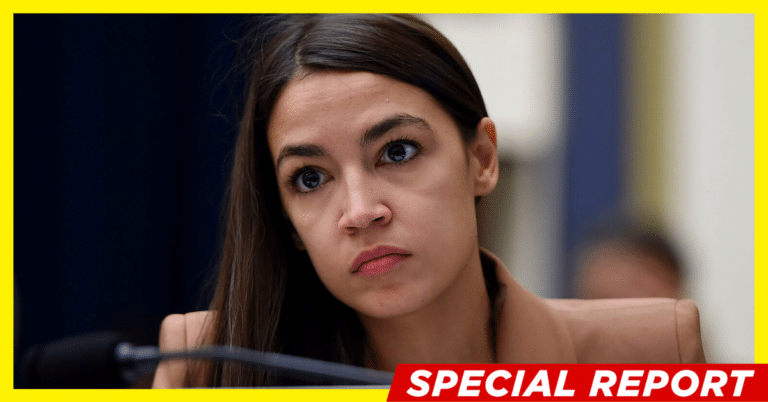 What's Happening:
Democrat congresswoman Alexandria Ocasio-Cortez made a name for herself in 2019 when she released the "Green New Deal." This proposal was supposed to radically transform the nation, pushing environmental policies seen nowhere else in the world. But even the Democrat majority in the House refused to even look at it–making this "New Deal" look more like a flop.
But the so-called socialist wasn't daunted. She wasted the last few years drumming up attention for herself on social media. And the woman without one legitimate legislative victory decided to push her green agenda onto the blinking masses. She spent four years crafting a documentary pushing her radical environmentalism. It was released to theaters, with critics raving.
Yet again, AOC ended up with a dud.
From Fox News:
New York Democratic Rep. Alexandria Ocasio-Cortez's new climate change documentary debuted in movie theaters over the weekend, generating an abysmal $80 per theater…

The film currently boasts an 88% "fresh" critic score on Rotten Tomatoes and does not yet have an audience score…

The documentary debuted on more than 120 screens over the weekend but garnered less than $10,000 dollars across all theaters, coming in 33rd place overall at the box office.
Wow, this is really bad. A few weeks ago, a Christian streaming series aired three episodes in theaters and ended up rocking the box office (and that's with Hollywood critics ignoring it). Yet a woman praised by the liberal media–with critics gushing over her film–couldn't get more than a handful of people to see her movie.
According to reports, it brought in less than $10,000–only $80 per theater. That is a bomb, even at that level. And that's after woke critics called AOC "the best onscreen antidote to despair." Yeah… nobody was buying that.
AOC is shrill, unpleasant, and plain old stupid. Nobody who spends more than 5 seconds listening to her is happy they did. And we doubt many people want to spend money going to a movie theater to see a bunch of entitled feminists lecture them about the environment.
Especially when this appeared to just be a puff project, created to AOC can revel in her own ego.
Why else would she release this to theaters instead of Netflix or some other streaming service? Because she had dreams of it being a "box office smash," which would inflate her head to no end. Instead, she has once again become a laughingstock.
You really have to wonder how she is able to keep doing this.
Key Takeaways:
AOC's climate change documentary brought in only $80 per theater opening weekend.
The socialist spent four years making a film that props up her ego.
AOC had previously failed to push her green agenda through Congress.
Source: Fox News