After AOC Endorses Bernie For Pres – She Tells America She Would Love To Be The Sanders VP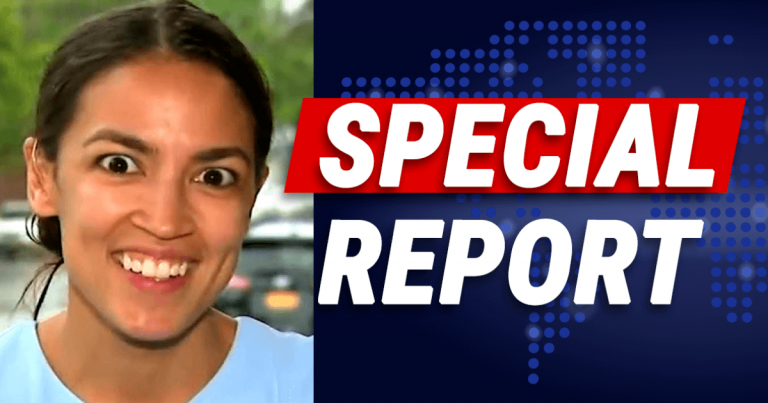 Alexandria Ocasio-Cortez recently threw her hat in the 2020 ring—by endorsing Bernie Sanders.
That should be enough for you to know not to vote for Sanders. If a person like AOC—who has done nothing for American except humiliate herself with her destructive socialist plans—endorses him, then we don't want him.
AOC got elected by promising to abolish a major federal agency. She backed a radical "green new deal" that would have destroyed our economy.
On top of that, she proudly calls herself a socialist. She is the last person whose endorse I'd want.
Now we are learning that her endorsement for Bernie is coming with a socialist dream.
From Independent:
Alexandria Ocasio-Cortez has said "it'd be an honour" to be vice president for Bernie Sanders after endorsing the Vermont senator in the Democratic primaries, while noting she's not old enough to take the job…

"I'm only 30, someone has to be 35", she added, "but it'd be an honour" to be vice president.
Yikes. During an interview, AOC said she would be honored to be Bernie Sanders' vice president.
Before you run screaming into the night, don't worry. Not only is Bernie not going to be president, but AOC is too young to hold the vice president office.
But it's pretty outrageous that a woman who is all talk thinks she can take such an important position within our government.
Time and again she's proven she doesn't understand how our government and economy work. She seems to have not even read the Constitution.
What does she think she's going to do as vice president. Or, dare I say, president!?
Even members of her own party don't like her and want her gone.
We shouldn't be surprised Bernie wanted her endorsement. Radical, far-left socialists stick together.
Misery loves company, after all.
The scary reality is, politicians who push socialism aren't going away. They are getting bolder as America gets stronger and more successful.
They don't seem bothered with draining America of our power and prosperity to achieve their goals.
The only thing stopping them from winning, is you and me.
We need to make sure socialists like AOC are removed from our government immediately.
SHARE if you want AOC—and her allies—voted out in 2020!
Source: Independent