Queen AOC Suffers Growing Fallout Over Dress – Now She's Trying To Sell Expensive 'Tax The Rich' Merch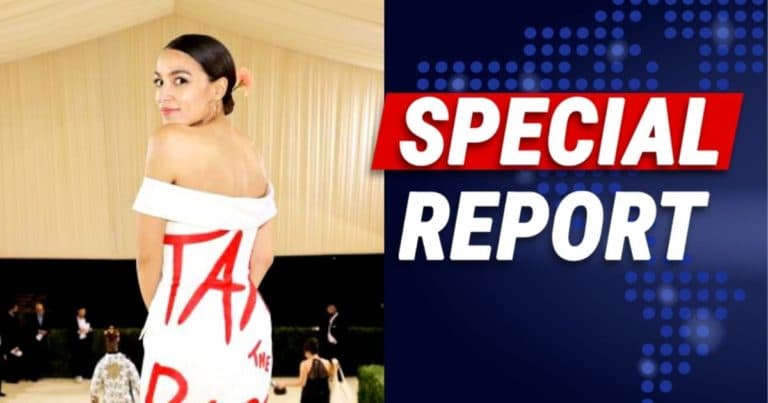 What's Happening:
For a socialist, AOC is doing a terrible job. First, she shows up at an event that cost $35,000 a ticket. After that, she pandered to her braindead base with a dress that said "Tax the Rich." Yeah, we're buying that Alex.
We later learned the very person who designed the dress doesn't pay her taxes. How ironic.
Now, it seems that AOC is the last person who should have problems with capitalism. That system helped propel her into her ill-gotten celebrity. Now, she is exploiting the infamy of her obnoxious dress by selling merch based off of it.
From Daily Wire:
Rep. Alexandria Ocasio-Cortez's (D-NY) campaign is promoting "Tax The Rich" merchandise from her campaign store following her stunt at the Met Gala last week…

"Whether the message is on a sweatshirt or something more formal, the facts are the same," Team AOC said in its email to supporters, promoting the line. "In order to reshape our economy and make it work for all of us — not just those who can self-fund their trips to space — we absolutely must Tax the Rich."
Why It's Important:
At this point, I am convinced AOC's entire career is some form of performance art. It has to be, right? Who in their right mind is taking this woman seriously? She says she hates capitalism and wants to tax the rich. But at the same time, she is trying to make money off of selling merchandise online.
And I'm sure that cheaply-made garbage that reads "Tax the Rich" is made in China.
AOC claims to be a socialist, but she sure does love capitalism. She even knows how to exploit a trend to sell useless crap to the unwitting masses. Perhaps the greatest capitalistic ploy known to man.
Sweatshirts with her slogan cost $58. While t-shirts run for around $27. Seems like someone loves money!
These tacky shirts and mugs harken back to those "Smash Capitalism" stickers socialists are known to slap onto their $3,000 Apple MacBook. I'm sure those latte-sipping hypocrites relish the fact they are taking down the man by buying all their products.
At this point, we have to question if AOC really is a "Democratic socialist." Nothing she's done, besides lip service, has further the cause of the common man. She talks big about taxing the rich guys but is seen rubbing shoulders with them.
Does she really care about the movement—or is she yet another con artist in D.C., getting rich off of empty promises and rhetoric.
Oh, I think you already know.
Key Takeaways:
AOC is selling "Tax the Rich" merch after her Met Gala stunt.
She is selling shirts and mugs with the slogan from her dress.
For a socialist, AOC is getting rich and famous off her political career.
Source: Daily Wire