After AOC Mocks Trump's Food Stamp Changes – Fact-Checkers Dismantle Her Personal Claims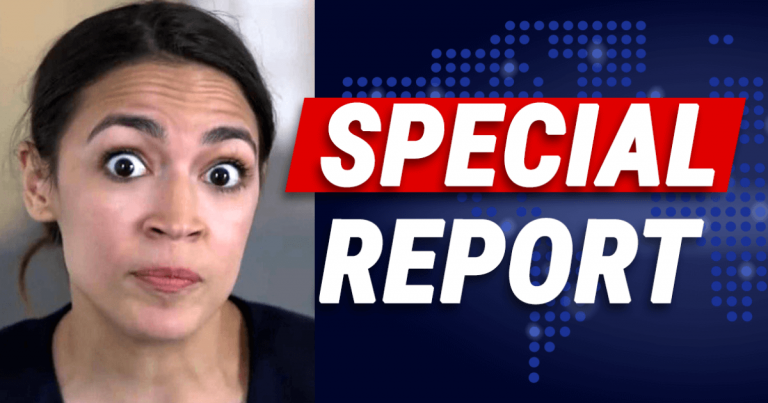 Alexandria thought she could pull the wool over our eyes – caught in the act!
It seems like we have to fact-check everything Alexandria-Ocasio Cortez (D-NY) says.
Why? Well, because she keeps making questionable statements, especially where President Donald Trump is concerned.
For instance, she just called out a new food stamp rule, recently enacted by the Trump administration.
Trump's team tightened requirements for the food stamp assistance program, which many hard-working Americans appreciated.
But of course, AOC didn't.
She jumped on Twitter to say her family "might've starved" if these rules were in place when she was younger.
However, The Heritage Foundation revealed that AOC obviously didn't understand the new rules (via Fox News):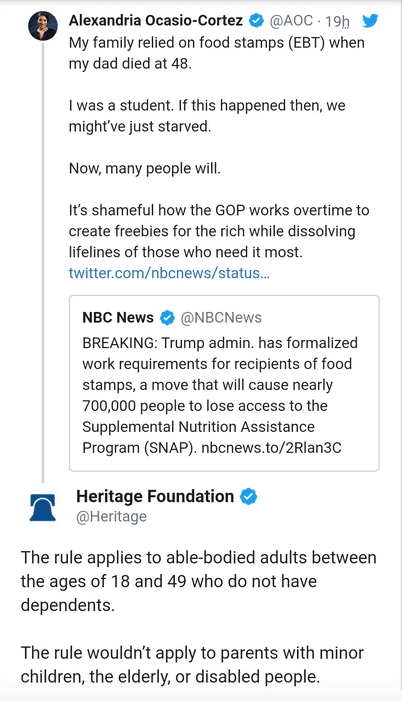 The rule applies to able-bodied adults between the ages of 18 and 49 who do not have dependents.

The rule wouldn't apply to parents with minor children, the elderly, or disabled people.
Wrong again, AOC!
And this correction led to more outcry on social media, as many Twitter users accused Ocasio-Cortez of spreading "Fake News" about the new rule.
My favorite reply came from Catalina Lauf. She's a Republican candidate hoping to land a House seat in Illinois' 14th Congressional district.
Her response to the errant AOC is just perfect: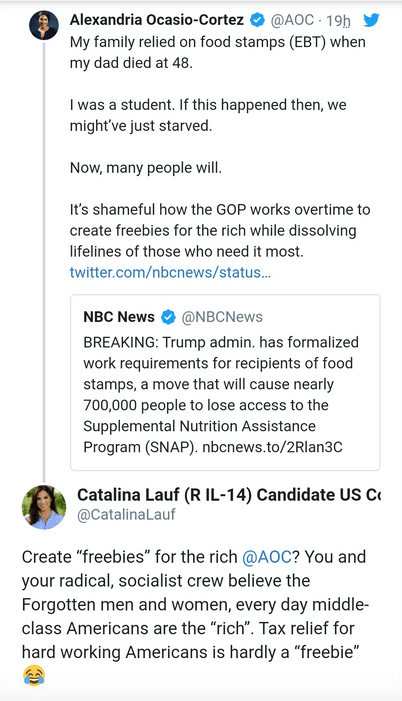 Create 'freebies' for the rich @AOC?

You and your radical, socialist crew believe the Forgotten men and women, every day middle-class Americans are the 'rich'.

Tax relief for hard working Americans is hardly a 'freebie.'
NAILED it!
Socialists Like AOC spread the myth that their ideals will favor middle-class America, and only punish the very wealthy.
But we have LOTS of evidence from socialist regimes around the world, which has proven that quite the opposite is the case:
Socialism basically enslaves the middle-class. And it gives those who refuse to work hard a free pass.
In my view, it also destroys ambition, discipline, and the drive for personal achievement.
Lastly, Ocasio-Cortez and her constant promotion of taxpayer-funded welfare programs is NOT what America needs!
Oh, and she can't seem to get details right. Ever. Why is that, AOC..?
SHARE if you think Alexandria Ocasio-Cortez isn't fit hold elected office in this country!
Source: Fox News