Queen AOC Turns On Joe Biden – Says Accusation Against Presumed Nominee Should Not Be Ignored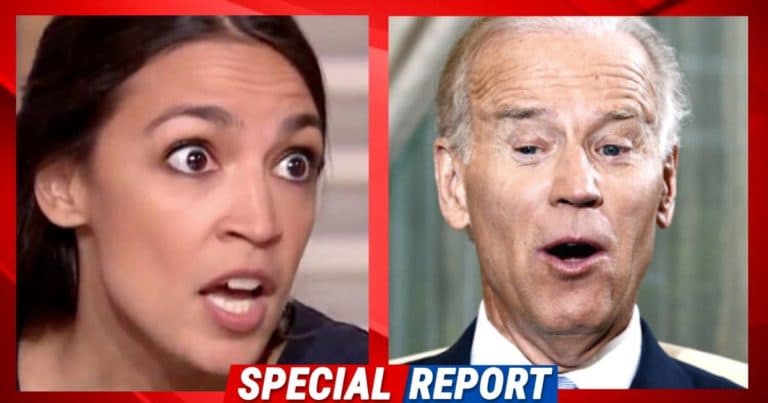 We all know about Joe Biden's long history of controversy. But we're not even talking about his connections to China or Ukraine!
A former staffer has come out and accused the presumptive Democrat nominee of sexual assault. So far, Joe has stayed quiet (and the liberal media is trying to ignore it).
But an outspoken leftist opponent, AOC, is demanding better from their party.
From Daily Wire:
"I think it's legitimate to talk about these things. And if we want, if we again want to have integrity, you can't say, you know — both believe women, support all of this, until it inconveniences you, until it inconveniences us."
Unlike the rest of the left, AOC is actually confronting the fact that these accusations should be taken seriously.
She called out the apparent hypocrisy of the left saying, "You can't say 'believe women,' until it inconveniences you."
And you know what? For once we agree with Ocasio-Cortez. Yikes, did hell freeze over?
We sat through weeks of torture from the media, as they all but condemned Brett Kavanaugh over accusations from his past.
(And let's not forget the many times the media gave airtime to women attacking Trump. Women who later recanted their claims.)
But this very same media refuses to respect or hear Biden's accuser?
These are the same liberals who always chant "believe all women" when it's conservatives being accused.
Today, they aren't even acknowledging this story. Could it be because Joe Biden is their only chance at removing Trump this November?
If so, that is pretty low. We are supposed to be living in a society where we take accusations seriously.
There is due process to ensure victims are heard and their attackers punished.
Democrats seemed to believe this, just a few years ago. Why not now?
If there is nothing to these accusations, Biden's name would be cleared. That would certainly help his campaign, right?
Yet, the fact that they refuse to even pay attention to them speaks volumes.
We think there should be an investigation. At the very least, this woman would be heard—how about you?
SHARE if you think these accusations against Biden should be investigated.
Source: Daily Wire