Deplorable Exposes AOC With Times Square Billboard – Then Tricks Her Into Spreading It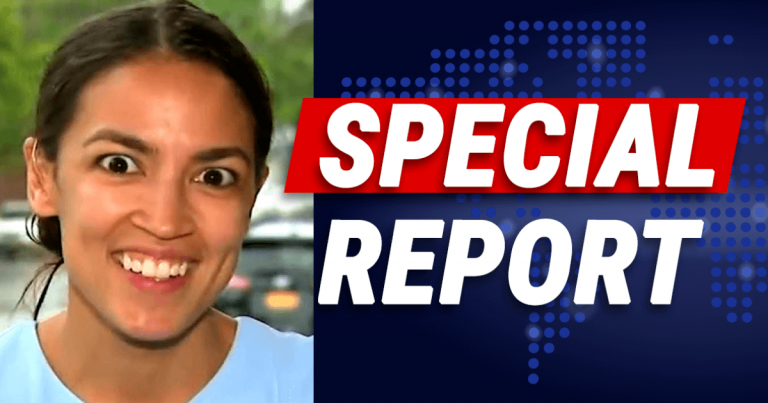 They turned the tables on AOC – and it could take her down in 2020!
Alexandria Ocasio-Cortez has been bad news not just for America, but her own state.
But despite her terrible track record, numerous gaffes, and shrill voice—she is actually getting stuff done.
Yet, she actually blocked thousands of jobs and billions of dollars from coming to New York City. You may have heard about the Amazon facility that was going to be built in New York.
It would have created many jobs and brought billions in investments. Aaaaaand AOC killed the deal.
Now Amazon will build its plant somewhere else, leaving New Yorkers in the lurch. All thanks to AOC.
Many New Yorkers aren't happy about it. And a major company took her to task with a great big billboard in Times Square.
And the woman helped it go viral—by sharing it!
From Twitter:
Few things effectively communicate the power we've built in fighting dark money & anti-worker policies like billionaire-funded groups blowing tons of cash on wack billboards (this one is funded by the Mercers).

(PS fact that it's in Times Sq tells you this isn't for/by NYers.) https://t.co/B4QTPi1r2k

— Alexandria Ocasio-Cortez (@AOC) February 21, 2019
Uh… what? Hey Alex, let me give you a little tip. Don't help your rivals by spreading their negative billboards about you!
I mean, it's true. AOC cost New York billions of dollars and thousands of jobs. She can't really ignore that fact.
But to actually share the image—as a way of criticizing them? Dumb move.
Everything that billboard says is a fact. AOC's toxic influence is costing New York big time. The only unfactual things in that tweet are what AOC wrote.
She claims the billboard isn't for New Yorkers because it was put up in Times Square—one of the busiest places on planet earth.
Um, AOC, do you even go to New York? Do you actually believe that only tourists pass through Times Square? The vast majority of people in New York, are New Yorkers.
But she does have a point, the fact that it was put up in Times Square means that millions from all over the world get to see how much of a failure AOC is.
I mean, why would a politician spread an image that slams her own track record? Is she trying to wreck her career—or the entire Democratic Party?
Is AOC secretly working to help Donald Trump? No, that's crazy talk. She's far too stupid to do that.
She's just the kind of person the Democrats vote into power these days. Not a smart one.
SHARE if you want to see AOC voted out of Congress!
Source: Twitter