AOC Thought She Finally Took Down A Republican – Then She Finds Out Who He Really Is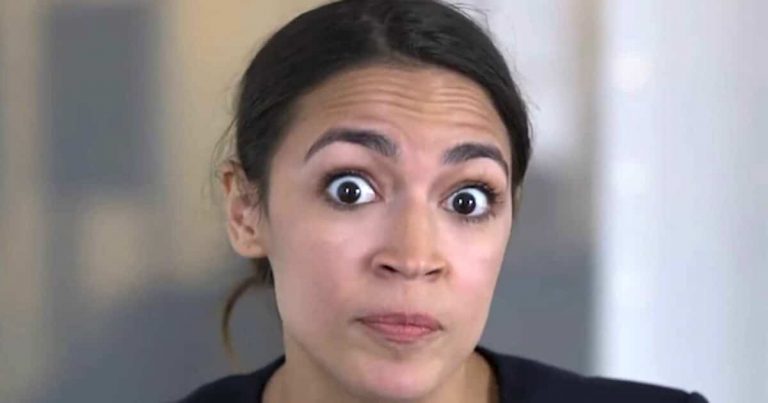 OOPS… it just might be Queen AOC's WORST mistake yet!
You know what Alexandria Ocasio-Cortez is REALLY good at?
Humiliating herself.
For example, she recently attacked a politician over what she called "creepy" behavior.
But, once again, we quickly learn she knows nothing about the very profession she's in.
See, she went after a top Republican after he posed with a cut-out picture of her; AOC just thought it was unsettling.
But there was one big problem with that … the "Republican" in question is actually a Democrat!
From Daily Wire:
"Socialist Rep. Alexandria Ocasio-Cortez (D-NY) tried to suggest a 'GOP' lawmaker was being creepy for taking a picture next to a poster cutout of her…

…and ended up being widely mocked for not realizing that the lawmaker was actually a Democrat."
AOC attacked Rep. John Yarmuth for posing beside a cardboard cutout of herself.
The picture was featured in a tweet criticizing the rising socialist movement within the Democratic Party.
I guess AOC was confused, because the Twitter account was the Kentucky Republican Party.
BUT if she had bothered to read the tweet, she would have realized that they clearly stated Yarmuth was Kentucky's "lone Democrat" in Congress.
Context is everything, Alexandria. And, maybe you should read before you tweet.
Instead, to cover up her own mistake, she deleted her Tweet … thankfully, somebody saved it:
Hey, @AOC. It looks like you might have accidentally deleted that tweet where you tried dunking on Republicans and instead stepped on a rake like an idiot. It's okay, though. We saved it for you. pic.twitter.com/lSDOlB7KTa

— Sean Davis (@seanmdav) April 25, 2019
Okay, here's a civics lesson for New Yorker AOC: not everyone from Kentucky is a Republican.
But even as an elected official, she can't be bothered to learn about her own colleagues on Capitol Hill!
It's almost as if she's completely UNQUALIFIED to serve! The evidence is stacking up, isn't it?
And she seems to be getting worse, if that's even possible, and she refuses to learn from her mistakes.
SHARE if you think AOC should just step down before humiliating herself again!
Source: Daily Wire