Missing Audio From Sanders-Warren 'Handshake' Released – The Mask Comes Flying Off On National TV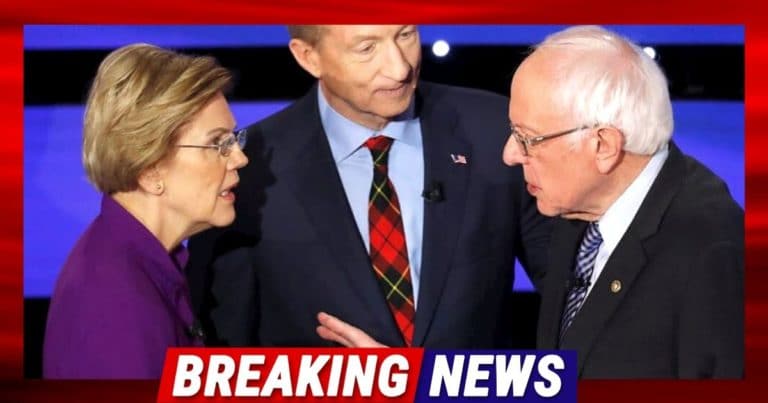 Just in case you've been avoiding the Democrat debates, we'll let you know of some entertaining drama going on.
Yes, the Democratic frontrunners are all duds. But they can't even get along on national TV.
Since the last debate, a feud has erupted between Bernie Sanders and Elizabeth Warren. According to rumors, Sanders told Warren that a woman can't win the election.
Bernie, of course denies it, calling it a lie.
Is it? Well, this is a woman who's lied about being an Indian, not to mention her corporate past. So, I'm willing to bet she "leaked" this story to boost her fading campaign.
After their testy debate exchange, the two were seeing speaking for a few moments. Warren infamously refused to shake Sanders' hand. But what were they saying?
Now the audio has been revealed. I guess CNN wanted to poke the bear even more.
From Fox News:
Audio of the tense-looking post-debate exchange between Sen. Elizabeth Warren, D-Mass., and Sen. Bernie Sanders, I-Vt., was released Wednesday night, revealing both of them accusing the other of "lying" on national television…
"I think you called me a liar on national TV," Warren said to Sanders…

"You called me a liar," Sanders told Warren.
Woah. We all knew CNN was trying to take down Sanders to help Warren. But to leak this audio is even more shocking.
Warren walked over to Sanders and said, twice, that he had called her a liar. After saying "let's not doing this now," he fired back, accusing her of saying he's a liar.
Hey guys, it's okay. You're both liars! You promise to give Americans "free" healthcare. But you don't tell us it will cost trillions in taxes. That's pretty deceptive to me.
This feud is pretty odd, to say the least. Some speculate that the establishment is orchestrating it to help Biden. Or they are so opposed to Bernie, they are doing what they did to him in 2016.
It's clear that Warren is trying to smear Bernie by playing the sexist card.
But something tells me that it's going to blow up in her face.
She just might lose all her support as they flock to Bernie's defense.
Not that we're all that broken up about it. Both of these candidates would do a poor job in the White House.
SHARE if you think Warren is going down after this huge mistake!
Source: Fox News