AG Barr Gives California A Direct Order – Stop Violating Constitutional Rights And Reopen Churches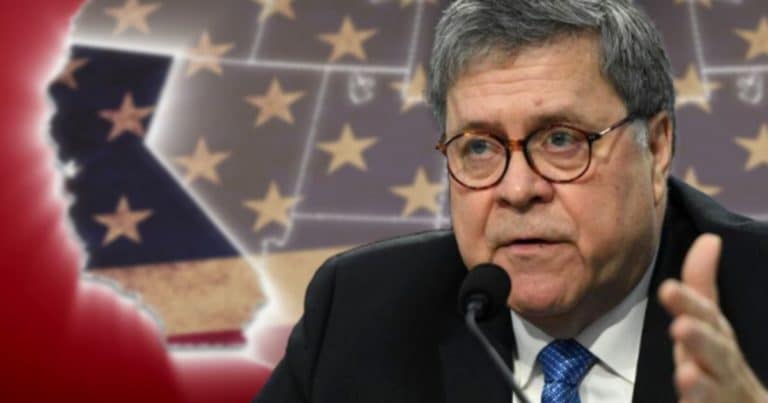 If you're a person of faith in the state of California, you might be frustrated.
Governor Gavin Newsom has prohibited people from assembling at houses of worship, and many believe this is a violation of citizens' Constitutional rights.
Well, guess what? The U.S. Justice Department agrees.
The Department and Attorney General William Barr cited "civil rights concerns" regarding California's stay-at-home order:
In other words, they're saying it places an "unfair burden" on religious services in the state.
Here's what Barr's Justice Department has declared about the situation in California. From Politico:
This facially discriminates against religious exercise.

California has not shown why interactions in offices and studios of the entertainment industry, and in-person operations to facilitate nonessential ecommerce, are included on the list as being allowed with social distancing where telework is not practical, while gatherings with social distancing for purposes of religious worship are forbidden, regardless of whether remote worship is practical or not.
That's a very good question, isn't it?
How come offices and other places can operate with social distancing guidelines, but churches can't?
Gov. Newsom's current reopening plan won't allow religious services to resume until a later phase. It won't happen until AFTER other forms of commerce, like manufacturing, reopen.
Therefore, this could be an infringement on Constitutional rights.
As a result, the federal government called this an example of "unequal treatment of faith communities." And again, I'm betting many would agree with that statement.
For example, one person who agrees is conservative attorney Harmeet Dhillon. He led legal challenges against California, claiming Gov. Newsom abused his authority:
Literally, this country was founded on the concept that the king cannot tell the peasants how they may worship.

Gov. Newsom may not tell people of faith that they can only worship in their homes.
Bingo!
States need to be consistent and fair about these restrictions. And our rights as citizens must remain intact.
In addition, people of faith deserve the right to congregate at places of worship, especially during trying times.
That only makes sense, doesn't it?
SHARE if you think California is unfairly targeting churches.
Source: Politico