Barr Drops Justice Department Hammer – Fresh Summer Developments Are Coming That Could Reset The 2020 Race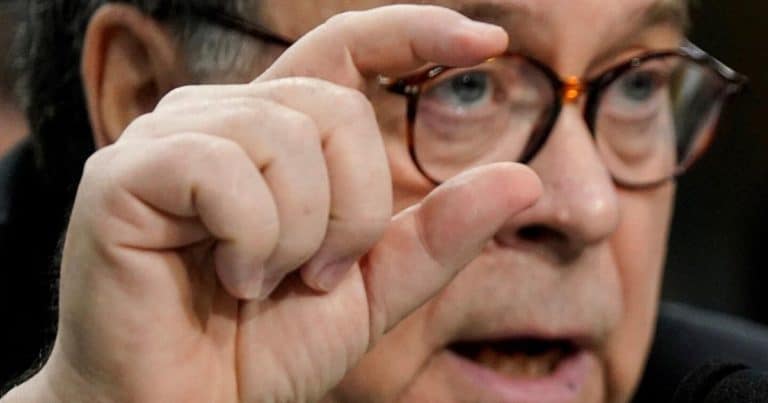 For months, AG Barr and his associate John Durham have been investigating the investigators.
They have been looking into how the government conducted its "Russian probe" against Donald Trump and his campaign in 2016.
Many have been awaiting news but heard nothing. Now, Barr has announced that major developments could be coming soon:
Attorney General Bill Barr announced in an exclusive interview with Fox News' Maria Bartiromo that Connecticut U.S. Attorney John Durham's investigation of the Russia probe's origins will likely yield "developments" before summer is over, despite delays caused by the coronavirus pandemic…

You know, he's pressing ahead as hard as he can. And I expect that, you know, we will have some developments hopefully before the end of the summer."
Why would these developments be important?
What Durham might uncover in his investigation could have implications for the 2020 race. Those who were involved in the probe against Trump are still in Washington.
In fact, recent leaks revealed Joe Biden himself might have a connection to it.
Many believe the Obama administration spied on Trump—in the hopes of influencing the 2016 Election. Conservatives believe Trump has been wrongly accused of colluding with Russia.
Even after Mueller's report announced no American worked with the foreign power, Democrats and some in the media still push this narrative.
Durham's revelations might be viewed as bringing justice to those who worked against Trump.
If Americans learn that it was Democrats who tried to sabotage or otherwise interfere with the last election, it could have dire consequences for their party in the future.
Above all else, these revelations need to be addressed, so that any forms of abuse or misconduct never happens again.
Key Takeaways:
Attorney General Barr announced John Durham's investigation will likely reveal developments over the summer.
Durham's criminal investigation is targeting the government's handling of the Russian probe.
It's possible what Durham reveals could have an impact on the 2020 Election.
Source: Fox News