Ben Carson Goes After Washington Democrats – He Accuses Biden Of Causing Irreparable Damage With CRT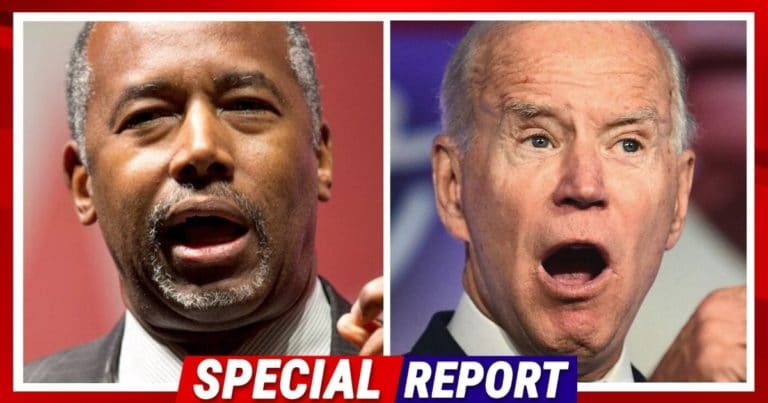 What's Happening:
As some on the right refuse to fight, Ben Carson is doing double duty. He is unafraid to take on the liberal elite, even as they push their radical agenda.
Sure, he might have a soft tone, but read his lips. He is taking on the biggest cultural issue of our time.
He attacked this liberal "holy grail" in a recent op-ed with Gov. Noem. Now, he's speaking out even more.
And he's calling out what Biden and his Democrats will do to our country over this issue.
From YouTube:
"Critical Race Theory is a deliberate means to sow division and cripple our nation from within–one brainwashed and resentful student at time.  And while foreign adversaries like China and Russia surely work to enflame our divisions," said Carson…

You teach them if they're black kids that they're victims and that somebody else has created their problem.  Can you imagine the irreparable damage that does to a person as they try to develop their self-image?"
Ben Carson once again goes after the left's "critical race theory" curriculum. While speaking on Fox News, he said the ideology will "sow division" deliberately and can cause irreparable harm to America's black youth.
Critical race theory is becoming increasingly popular in American schools. Once only pushed in colleges, CRT is now being added to the curriculum of many public schools.
Instead of teaching traditional views on race and Civil Rights, CRT paints black and minority Americans as ongoing victims of "systemic racism," put on them by white people.
Its goal is to pit black Americans against white Americans, so that the government (run by Democrats) will have the upper hand.
After all, if we are constantly fighting each other, we won't be able to hold our government accountable for all the bloated spending, corruption, and mismanagement they do.
We've already seen how harmful this kind of thinking is. Just last year, billions of dollars of damage was done to our cities, as people were convinced violence was the only solution to their problems.
If CRT spreads to our schools, these kinds of events will become much more common. And it will only be the beginning.
We could be looking at a country that is 100% divided along racial lines. Just a few generations ago, white and black people locked arms in their quest for freedom.
But in a few generations from now? Carson warns we could be divided forever, if CRT has its way.
Key Takeaways:
Ben Carson called out critical race theory during an interview.
He slammed the ideology, being taught in American schools as deliberately divisive.
He warned it could cause irreparable harm to black Americans.
Source: YouTube