Ben Carson Calls Out Maxine Waters – Takes Down California And Her 'Basic Manners'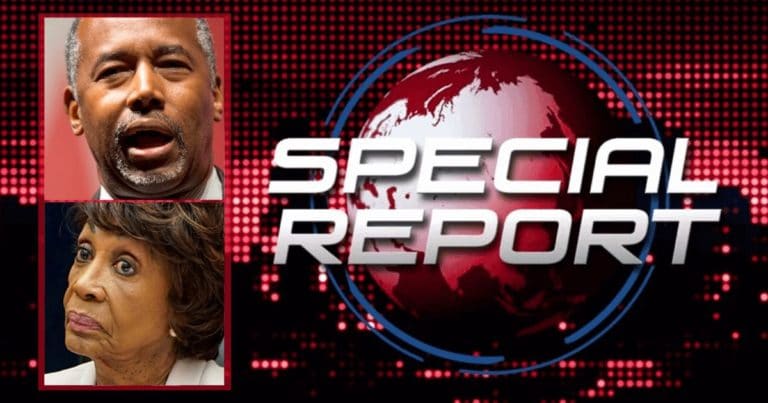 Maxine taunted the Bull – now Ben is coming after her!
It takes a lot to get patient and calm Ben Carson worked up—but congrats to Maxine Waters, because she did it.
Waters is a 30+ year Democrat from California. Like the rest of her party, she tries to blame the problems of her state on President Trump.
Keep in mind, Trump has been in office for three years. Waters has been a congresswoman for decades.
So who should really be blamed for CA's problems?
Waters had the gall to send a condemning letter to Trump, accusing him of shamelessness. His crime? Trying to help California residents in serious need.
Carson had enough and put Maxine in her place.
From Politico:
Waters had written Trump on Oct. 28 demanding answers on reports that the administration is mulling moving homeless people off the streets in California. "Your shamelessness knows no bounds," Waters wrote in that letter.

Carson threw the charge back at her today in his response: "Shamelessness is a career politician of 30 years laying blame," he wrote…

"Basic manners elude you and it seems that instead of producing results, you're more interested in producing cheap headlines at the President's expense — like a true career politician."
Burned! Oh, I wish I could have seen Maxine's face when one of her interns read her this letter.
President Trump has been taking the lead to help ailing California and it's many problems.
For that, Waters said his "shamelessness knows no bounds."
Really, Maxine, really? Thanks to Trump black unemployment is the lowest ever.
Let me repeat that. Thanks to the president, more black Americans are working than in the entire history of our country.
What has Maxine done to help struggling black families? Hmm… let me check, oh nothing!
Her own district, along with the rest of California, is in deep trouble. Ben Carson was 100% right when he accused her of true shamelessness.
He called out her lack of basic manners—and her unwillingness to produce results.
Let's remember that, thanks to Ben Carson, businesses are investing billions into inner cities across America.
Inner cities that Maxine and her Democrat allies have ignored for decades.
Why didn't Waters, who's been in Congress for years, bother to get companies to invest in hard-hit, black communities?
Is it because she's a swamp dweller whose more interested in making greedy lobbyists happy? You can decide for yourself.
Maybe Caron's wakeup call will get people like Waters to actually do their job. But who am I kidding?
SHARE to thank Ben Carson for standing up to "Low-IQ Maxine!"
Source: Politico