Bernie Sanders Agrees With Trump For Once – He Just Admitted Biden Has "Moved A Whole Lot" To The Left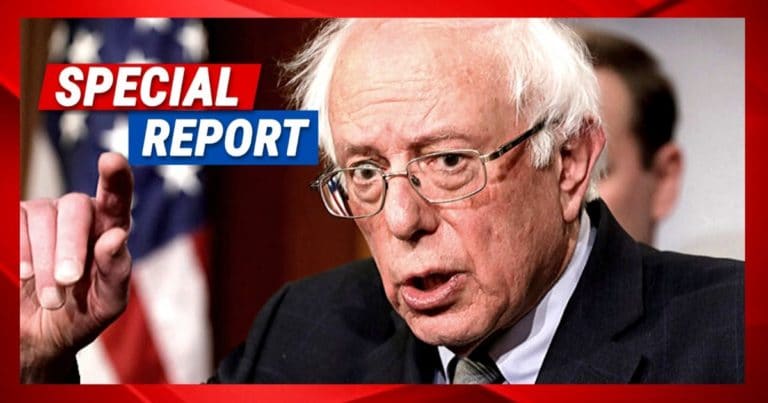 What's Happening:
President Trump has been calling out Democratic candidate Joe Biden in recent days. Donald claimed that Biden is becoming the most radical, left-wing candidate in our history. He has even warned that, should Biden be elected, he would be "run" by the radical left.
The liberal-leaning media appears to be questioning, or ignoring, Trump's claims. Yet in recent weeks, we've seen Biden contradict his former moderate policy stances, embracing liberal ideas he once rejected.
But there is one person on the left that actually agrees with Donald Trump's accusations. His name is Bernie Sanders:
Joe Biden was selected by the Democratic Party because he was considered the "safe," moderate choice in a sea of left-leaning candidates. Liberals wanted Joe because they thought he would be the best candidate that could take moderate voters away from Trump.
However, Biden has become increasingly left-wing in his policies, since becoming the presumptive nominee. It appears Joe is eager to court the approval of radical left-wingers in his party, rather than win the votes of moderate and independent voters.
Bernie Sanders revealed Biden's campaign is working with Sanders and his socialist people. He even admitted that Joe has moved a "whole lot" to the left, embracing large parts of Sanders' agenda.
This should be concerning to most voters. Donald Trump has made it clear that he rejects socialism, promising American will never become a socialist country. That promise seems to resonate with many Americans, who do not want the economy to suffer under socialist policies.
Yet Biden appears to be rejecting the wishes of many hard-working Americans, instead he's embracing the radical agenda of those who—apparently—never worked a day in their lives.
Biden seems to be embracing the defund the police movement, open borders, heavy government regulation on business, as well as taxpayer-funded healthcare. Just for starters. All these things he, in one form or another, rejects as recently as a month ago.
Now, Sanders is claiming Joe is moving left with each passing day. How long before "moderate" Joe openly declares himself a socialist?
Key Takeaways:
Bernie Sanders admitted that Joe Biden has "moved a whole lot" to his left-wing platform.
Donald Trump has warned that Joe Biden is becoming a radical leftist.
The once "moderate" candidate now appears to be embracing socialist policies.
Source: YouTube