After Bernie's Taxes Slip Out, Trump Drops His Heavy Obama-Tax Hammer
Donald set him up – now Sanders is going to pay.
Bernie thought he could one-up Trump by releasing his tax returns. I guess he thought Americans wouldn't actually read them.
Well, we learned quite a bit about America's favorite "Democratic Socialist." Turns out, this millionaire rarely gives to charities, but even worse came out.
On top of that, this man really enjoys wealthy tax breaks he claims to fight. In fact, he used Trump's tax breaks to save thousands—and then says the rich should pay over 70%.
Now Trump is holding Uncle Bernie's feet to the fire. From the President's Twitter: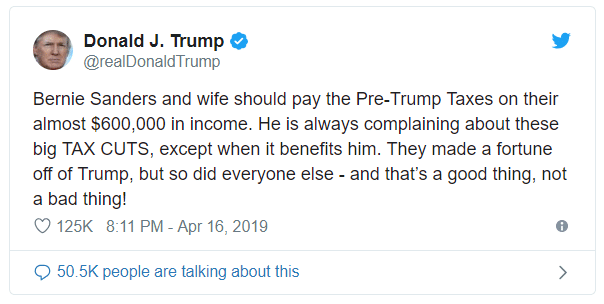 In case you can't read the tweet above: "Bernie Sanders and wife should pay the Pre-Trump Taxes on their almost $600,000 in income. He is always complaining about these big TAX CUTS, except when it benefits him. They made a fortune off of Trump, but so did everyone else – and that's a good thing, not a bad thing!"
That's right, Sanders, why don't you pay the amount you demand others pay in taxes? Trump is simply holding you to your word.
I find it very hard to accept Bernie actually cares about the well-being of American workers. He could have easily contributed more in taxes.
He didn't have to take the tax breaks he directly attacks. Why would he use those breaks, when he claims the rich don't pay "their fair share"?
Remember, Bernie was one of many, many Democrats who refused to vote for Trump's tax cuts in 2017. He said the richest one percent of our country needed to pay more.
Yet we know for a fact that Bernie didn't pay more. He wants one standard for himself and another for everyone else.
A typical liberal, if you ask me!
Perhaps Bernie should cut a big fat check and send it along to the government. But that would mean cutting back on his wealthy, comfortable lifestyle.
Do you think he'll do it? Yeah, right!
SHARE if you want Bernie to pay Obama-era taxes!
Source: Twitter