Beto's Poll Numbers Take Sharp Turn – Then His Top Adviser Drops The 1-2 Combo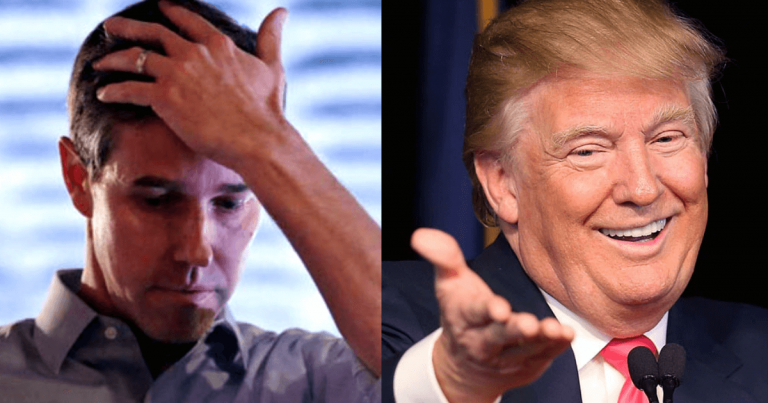 Trump's predictions for Beto O'Rourke are coming true…
Poor Beto. The Democrats had such high hopes for you. But who would have thought that an Irish man who uses a Latino-sounding nickname to score brownie points would falter?
Alas, his presidential hopes have evaporated so fast.
Early on, he raised millions. He seemed to win over youthful, enthusiastic supporters.
But he is a bigger liberal gaffe-machine than AOC or Joe Biden! He wants to tear down the border wall and give more outsiders jobs. And he considers his presidential run charity.
Now his poll numbers are tanking as the next pretty face, Pete Buttigieg, soars over him. But there is more bad news. A 1-2 punch combo!
From The Hill:
Two aides to former Rep. Beto O'Rourke (D-Texas) have reportedly departed his 2020 presidential campaign…
Ouch! You know it hurts when key aides, members of your dream team, abandon ship.
One of his top advisors and her deputy have left the campaign. That is a death knell if I ever heard one.
Politicians—aside from Donald Trump—desperately need advisors to tell them what to say and think.
Without these puppet masters, they've got nothing. Beto's chances are plummeting as he tries to be Mr. Hipster skateboarder.
Hmm… maybe that's why these guys left. Because he never took their advice.
And Trump predicted this guy wouldn't go anywhere. Looks like he's making it come true, and leaving room for the other nutcases.
A man who eats dirt for its 'healing properties' is driving away help! I would have never imagined it.
Their best the Democrats have to offer are very odd people who want socialism to take over our way of life.
Oh, and they want to increase the number of outsiders, so our votes will never count.
Not a big shocker that Beto, who is as smart as a box of rocks, is quickly losing.
SHARE if you think Beto should just pack up and move to Mexico!
Source: The Hill