Biden Slips Up 3 Times In Live Interview – Video Catches Him Tripping Up, Insulting His Audience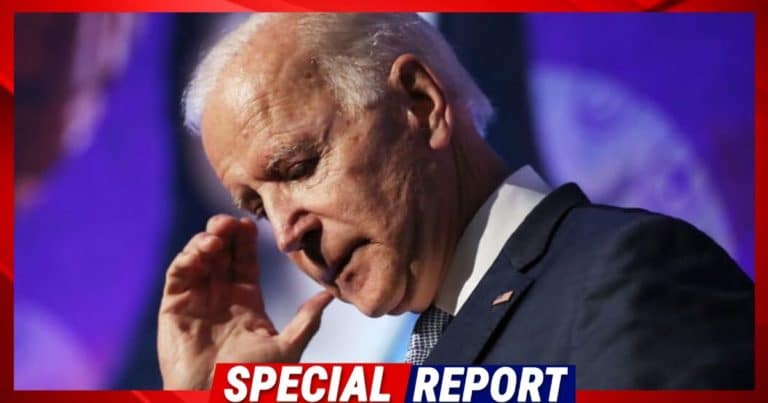 Wow. Joe really stepped in it this time. The Democrat claims to be a BIG civil rights activist (just don't look at his voting record), but when you get him talking…
Well, let's just say he's hardly MLK.
Charlemagne Tha God interviewed him this week and THREE times Joe said very questionable things, and the first one, in particular, is getting national attention.
This is disgusting.

Joe Biden: "If you have a problem figuring out whether you're for me or Trump, then you ain't Black." pic.twitter.com/UvYZTjcPqZ

— Trump War Room – Text TRUMP to 88022 & get the APP (@TrumpWarRoom) May 22, 2020

I mean… I don't know if we even have words for this sort of thing. While trying to end his interview with Charlemagne, Joe burst out with, "I tell you if you have a problem figuring out whether you're for me or Trump, then you ain't black."
Did Biden just say that if an African American supports Donald Trump, they're not black? Does he think that he's the only option for black voters?
We always wondered if Democrats thought this… it looks like Joe is proving us right.
But, wait! There's more:
Yikes. During the same interview, Joe Biden claimed the one thing incarcerated Americans have in common is that they "can't read."
What does that mean? Just because someone's in jail doesn't mean they can't read, Joe. Plenty of people have done jail time. Some of them have been wrongly convicted. Are we supposed to write them all off as illiterate?
Finally, Joe drops this chestnut:
Not sure what Biden was trying to say in this one. It appears he misunderstood one of Charlamagne's questions and said he knows "a lot of weed smokers."
Was he trying to impress Charlemagne's predominately African American audience? Does he think all black people smoke weed?
I'm not sure what to make of Joe's statements. Yeah, he has a history of gaffes and embarrassing moments. And in recent months, we've worried about his mental state.
But does this interview reveal good ol' gaffing Joe? Or something much, much worse?
Remember, this isn't the first time he's said troubling things directed at the black community.
The "poor kids, white kids" comment is nothing compared to this interview!
These statements might lead some to believe Joe Biden looks down on black Americans. That they can't read, all smoke pot, and have only one option in November.
African Americans, be they Democrats or Republicans, need to take a hard look at this man and demand answers.
SHARE if you think Biden is not qualified to be president.
Source: YouTube, YouTube, Fox News