Republicans Just Cranked Up Afghanistan Heat On Biden – They Demand Joe To Quickly Brand The Taliban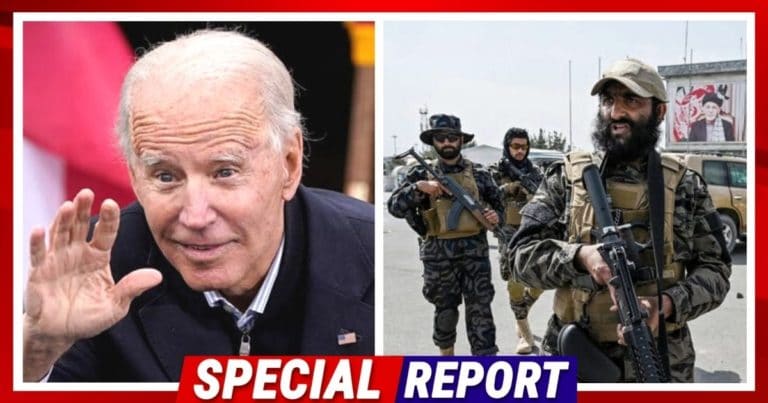 What's Happening:
If Joe Biden thought he was done with Afghanistan, he was sorely mistaken. After dodging the crisis he created for weeks, he tried to distract from it. But Republicans are making one thing very clear…
It is not over in Afghanistan.
Biden's failures allowed the Taliban to take over the country. The lawful government crumbled as the army fled. What's worse, Biden seemed to cooperate with the Taliban, as if letting them take over was a part of his plan.
Now, Republican leaders are demanding Biden pick a side.
From The Epoch Times:
Sen. Joni Ernst (R-Iowa), a military veteran and member of the Senate Armed Services Committee, along with a number of her Republican colleagues are urging Secretary of State Antony Blinken to take into full consideration the Taliban's violent actions since seizing complete control of Afghanistan in August and have the United States officially designate the Taliban as a terrorist organization.
Republican senators, led by veteran Joni Ernst, is urging Biden to designate the Taliban as a terrorist organization. This kind of move is more than just symbolic. It will require Biden to make it clear who he supports: the Afghan people or the group that conquered them?
Biden showed that he is far too willing to work with this dangerous group. He did nothing as the Taliban took billions of dollars worth of our own military gear, captured city after city, and allowed an attack in Kabul.
The idiot even gave a list of names of Americans and Afghan allies to the very people who could harm them.
It seems the least Biden could do is comply with this request. The Taliban took over the country with help from enemy cells in Pakistan. Intel reveals that al Qaeda and ISIS is working inside Afghanistan. As Ernst put it, this regime implements a "brutal style of governance."
But will Biden heed this urging? If he did, the United States would have the resources to confront the Taliban. We would be able to prevent them from moving around the world. We could potentially thwart future attacks.
I doubt he will, though. All because this request is coming from Republicans. Democrats aren't doing this, because they refuse to admit Biden failed in Afghanistan. To comply with this request would mean Biden let an evil group take over the country.
There's no way Biden will do that. But this will serve as a message to the rest of the country, Biden is on the side of evil.
Key Takeaways:
Joni Ernst and other Republicans are urging Biden to brand the Taliban as terrorists.
Ernst claimed the group fulfills all three criteria, as they have made radical moves against the people in their own country.
It is unlikely Biden will comply, given his refusal to admit his defeat and cooperation with the Taliban.
Source: The Epoch Times