After Biden Claimed Al Qaeda Was Out of Afghanistan – He Claims to Have Taken Down Their Leader Zawahiri—In Kabul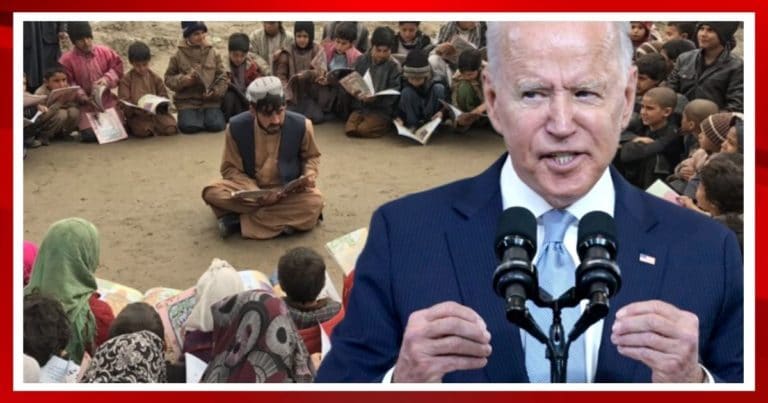 What's Happening:
Let's be honest, Joe Biden needs a win. He is suffering in the polls. His approval among most demographics is terrible. And signs point to massive losses for his party in November.
So, it seems pretty convenient that this week, his administration announced the sudden defeat of a long-standing leader of al Qaeda in Afghanistan.
Especially when, he previously claimed the group was no longer in the country.
From Fox News:
Al Qaeda leader Ayman al Zawahri's death in Taliban-controlled Afghanistan is raising questions about whether the country is being used as a base of operations for the terrorist group…

"This is proof positive that Afghanistan has once again become a safe haven for international terrorists."
That is a serious concern. The man said al Qaeda was eradicated from Afghanistan and the Taliban would not make it a hub for terrorism again. Now the leader of al Qaeda was there for months out in the open? Sounds like a complete failure, except for his ability take him out by drone.
And some are even doubting Biden's claims about taking down this man.
From Biz Pac Review:
Fred Fleitz, who is the former chief of staff of Trump's National Security Council and a 19-year veteran of the CIA, is not convinced that President Biden actually succeeded in killing al Qaeda leader Ayman al-Zawahiri in a drone strike in Afghanistan…

"…I'd like to know how this happened and how did it happen. Now, do we know that he was really killed? There was no Western media on the ground to confirm this," Fleitz stated.
Biden's Pentagon is making a big deal about killing the man who took over al Qaeda after we got Bin Laden.
But the reports indicate the man was operating openly in Afghanistan after Biden claimed the group was no longer there.
Sen. Graham used this to claim that Afghanistan is now a breeding ground for groups like this. "Proof positive" that Biden's withdrawal was a colossal failure for the world.
Fred Fleitz, on the other hand, has another take. The former chief of staff for Trump's National Security Council (and 19-year member of the CIA), isn't ready to believe the reports.
No Western media reporters were on the ground to confirm his kill. We have no body or other evidence we killed al Zawahri.
Considering he wasn't supposed to be in Afghanistan, how can we trust this intel is true?
Reports indicate that it was a drone strike. Then there needs to be footage, intelligence, and other evidence shown to the public to confirm this was al Zawahri.
Remember, this Pentagon previously blew up a car they claimed was full of insurgents and bombs. Only to admit, later on, that it was full of civilians and jugs of water.
You'll have to forgive us if we don't trust the caliber of leaders in Biden's Pentagon. Especially just before a major election.
Key Takeaways:
Biden is claiming the U.S. killed Ayman al-Zawahiri, al Qaeda leader in Afghanistan.
His presence in the country contradicts Biden's previous claims.
Trump's former NSC head questions whether the leader was really killed.
Source: Fox News, Biz Pac Review