Biden Lets Hair-Raising Classified Admission Slip – In Live Interview, Joe Claims a Discovered Document Was from 1974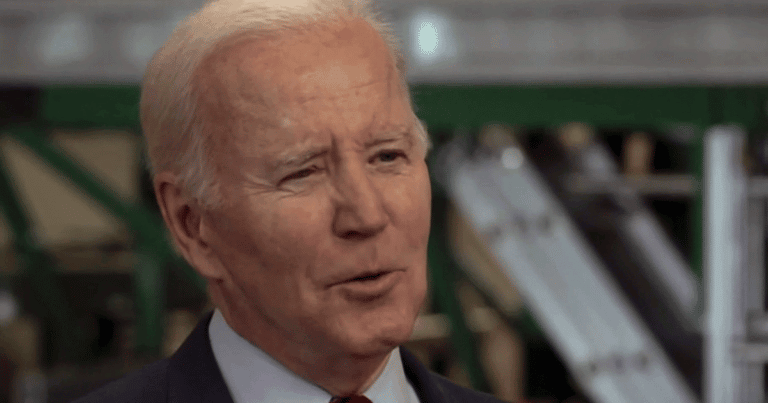 What's Happening:
The White House would just rather this whole classified documents scandal go away. But that doesn't seem to be the case. The Department of Justice has appointed a special counsel to oversee the investigation. And, with Republicans running the House, you better believe they will be leading their own investigation.
Biden knows he's in trouble. During a recent interview with PBS, he stated he wasn't going to talk about the situation.
Uh, that's a weird way to put it, Joe. Who are "they"? The voices in his head? His lawyers? White House staff? That seems awfully strange that he can't even answer a question. But, true to form, he disobeys whoever it was that told him not to talk.
Just a few minutes later, he lets a shocking admission slip.
Um… what!? We were told Biden was improperly holding onto classified documents from his time as vice president. That would have been between the years 2008 to 2017. But he just admitted one of the documents was from 1974.
Is Biden saying he has been hording classified documents (or other kinds of documents) since the 70s? He was a senator for many years. He's served the D.C. swamp for over 40 years. And this admission could suggest he has a treasure trove of sensitive information squirreled away in his home.
Bad move, Joe. You should have just kept your mouth shut. Now Americans have reason to worry that Biden has been mishandling classified information for as long as he's been in Washington. And, considering his shady relationship with China and other foreign countries, who knows what he might have done with those documents?
House Republicans need to jump on this, fast. Biden might be an even bigger national security risk than we previously thought. I can only imagine what the White House is going to say to backtrack this statement. But the cat's out of the bag.
Key Takeaways:
Joe Biden said he was not allowed to talk about the documents scandal, during an interview on PBS.
He went on to admit that investigators found documents from 1974.
It is possible Biden's been improperly handling classified documents for decades.