Joe Biden Has His "Deplorables" Moment, Says Millions Of Americans "Just Aren't Very Good People"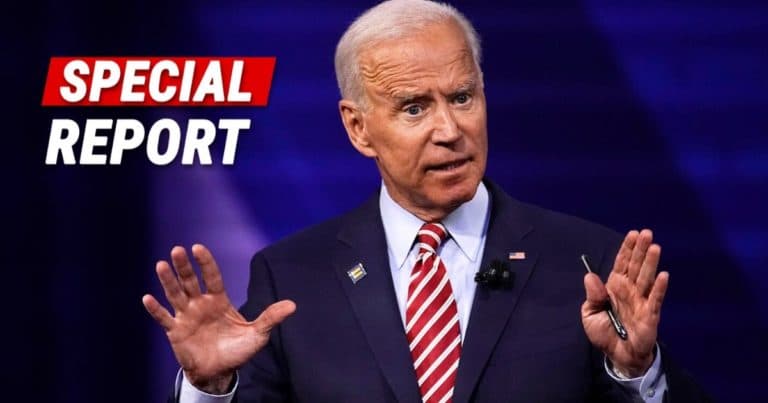 Oh, Joe Biden, what are we going to do with you? (Not elect you president, that's for sure!)
Soon after his shocking, "you ain't black" comment, he's back again with another chestnut. Without a teleprompter, he just can't be trusted to speak his mind.
Hillary got in big trouble when she called Americans "deplorables." But Joe just decided to top her with his latest attack on Americans.
From Fox News:
"The words a president says matter, so when a president stands up and divides people all the time, you're gonna the worst of us to come out…

"There are probably anywhere from 10 to 15 percent of the people out there who are just not very good people."
Right after accusing Trump of dividing Americans, saying "The words a president says matter," Biden accuses 15% of Americans of being "not very good people."
The statement was made during a virtual town hall, hosted by actor Don Cheadle.
Our Take:
Wow. The levels of irony in this one are too much to handle!
Biden says the "words of a president" matter. That Trump shouldn't be divisive. Then he immediately divides the country by accusing a large portion of being bad people!
Listen, folks, we talked a lot about Joe's mental health. But answer me this: can a man in a healthy state of mind be this unaware of his own actions?
But before you chalk this up to just another "senior moment," keep in mind that Democrats—especially Joe—lack even a small amount of self-awareness.
Much like Hillary, Joe Biden can say two conflicting things at the same time—and expect people to believe him.
It's called "doubletalk" and it's straight out of 1984. Democrats think they can accuse Trump of division, right as they divide the country.
Joe just called 10-15% of Americans bad people. Really? Hey Joe! You don't say that kind of stuff when you want to win an election!
Sure, there are bad people out there… but 10 to 15 percent!? Where did he even get those numbers?
If you look at the population of the country… you might not like what you see. Can't say Joe was thinking about a certain group, but those numbers are really troubling.
Americans are struggling right now to rebuild after lockdowns and riots. What they need is a leader that inspires us, not scolds us.
SHARE if you are voting for Trump, not Biden, this November.
Source: Fox News