Biden Sent Sprawling with '100% Forecast' – Report Is Certain Now within 12 Months a Recession Is Coming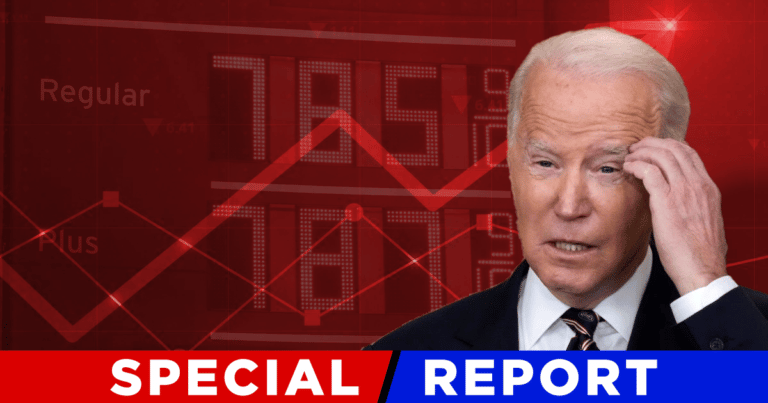 What's Happening:
Biden and the Democrats have been trying to push off blame for our struggling economy. They have ignored reports that we are experiencing 40-year-inflation. In fact, they have convinced the media to redefine common terms, to avoid facing the wrath of the American consumer.
But the facts are the facts. And the Democrats won't be able to worm out of their responsibility for the economy much longer. Because a new report has rocked the Biden administration. We are facing a 100% certainty of economic recession.
From Bloomberg:
A US recession is effectively certain in the next 12 months in new Bloomberg Economics model projections, a blow to President Joe Biden's economic messaging ahead of the November midterms.

The latest recession probability models by Bloomberg economists Anna Wong and Eliza Winger forecast a higher recession probability across all timeframes, with the 12-month estimate of a downturn by October 2023 hitting 100%, up from 65% for the comparable period in the previous update.
Many economists have already said we are in a recession, given the fact we've had two or more consecutive quarters of negative growth.
But Biden and his desperate Democrats were able to get the media (and Wikipedia) to rewrite what recession means to get rid of that inconvenient factor.
What are they going to say now, with Bloomberg predicting a 100% chance of a recession within the next year?
This news is coming out just weeks before the midterms, setting the stage for a very bad time for the left.
It appears Biden has been pushing off admitting there was a recession until after the midterms. So, if Republicans did retake Congress, Biden could possibly blame them in the coming year.
A weak strategy, at best. But it could explain why Democrats have been so unwilling to admit what we've all been seeing in the last year and a half.
Rising inflation, staggeringly bad energy prices, a war in Europe (funded by the U.S.), unchecked crime, and an open border have hammered our economy.
Biden and the left are to blame, yet old Joe refuses to accept the responsibility.
I doubt voters are going to give him much slack after this.
Key Takeaways:
Bloomberg has predicted a 100% chance of a recession in the next 12 months.
This report comes out just days before the 2022 midterms, risking the Democrats' chances.
Biden and his party have ignored signs of a recession for months, rewriting the definition.
Source: Bloomberg