Biden Shaken Up by Eye-Opening Evidence – Joe's Name Just Showed Up in 2017 Email Concerning Hunter-China Deal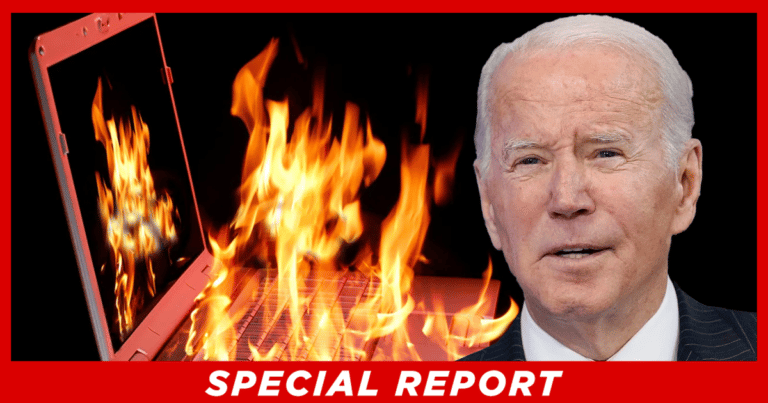 What's Happening:
You really have to wonder how a man like Joe Biden became president. It appears his family is dirtier than the Clintons. Whenever we do a little bit of digging, we find out that the Bidens had their fingers in all kinds of suspect deals.
Again and again, we see Hunter Biden is a weight around old Joe's neck. But his dad is no victim. Evidence has suggested Joe profited off of numerous deals his brothers and son were conducting. And, yet again, we are learning about an email that connects Joe with another questionable deal.
From the New York Post:
Joe Biden's name was mentioned prominently in an October 2017 email seeking to firm up a controversial, multimillion-dollar deal to ship natural gas from the US to China, the communication, found on first son Hunter Biden's abandoned laptop, reveals…

"I confirm I have requested [the contact] to be available for a call from Joe Biden and Hunter Biden on Monday morning," Fenet wrote.
Another email from Hunter's laptop mentions Joe Biden. This email is from Louisiana attorney Robert W. Fenet who was coordinating a deal between Hunter, his uncle Jim Biden, and seemingly Joe Biden.
The deal would involve selling natural gas to communist China–one of many times the Biden family was connected with the foreign power. The email reveals that a contact with an energy company wanted to speak with Joe Biden, while he served the Obama administration as vice president.
Gee, I wonder what this was all about? It couldn't be that Joe Biden was peddling his powerful position to land lucrative deals with foreign governments, could it? And that he was keeping on the hush-hush, by using his son and brothers?
This is one of many times Biden appears to be connected with shady deals from either his son or brothers. When are we going to demand answers from this family? Joe has been in Washington for over 40 years. He has connections his family could easily exploit to land big contracts.
How easy would it have been for Joe to exert his influence, in ways that are less than legal?
The left wants us to sweep all this under the rug. But Biden is the president. And he wants to be re-elected in 2024. Shouldn't we be worried that he's continued to peddle influence in the White House? And how much has that hurt the American people?
Key Takeaways:
An email from Hunter's laptop mentions Joe Biden over a deal with China.
The shady deal shipped American natural gas to the communist nation.
This is one of many pieces of evidence that suggest Biden was working with his son on questionable deals.
Source: The New York Times