President Biden Just Faced His Worst Failure – Report Claims His Meeting With Powerful Senator Manchin Didn't End Well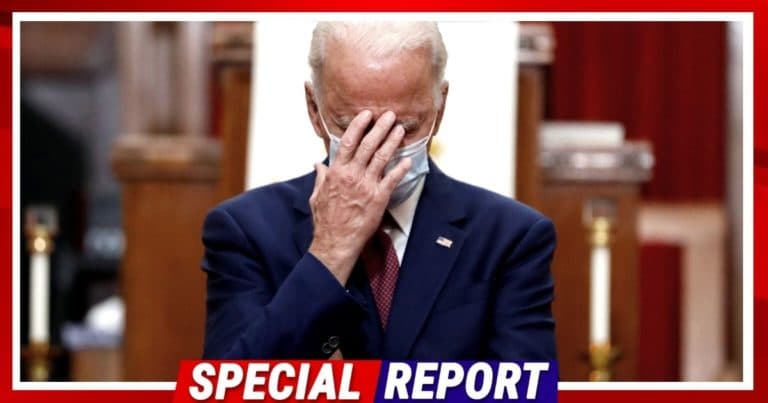 What's Happening:
Joe Biden just can't get anything done. And despite his failing political influence, he's barreling ahead with his toxic, socialist takeover of our country. He is very close to passing his insane, $3.5 billion spending spree.
But one senator is standing in his way, Democrat Joe Manchin.
You'd think it would be a done deal to get Manchin to support this bill. But he's one of that last moderates in Congress and he does not like Biden's bloated price tag. So, the old man invited Manchin to meet with him, to negotiate.
And that ended in disaster. From Breitbart:
On Wednesday, sources told Axios that President Joe Biden reportedly hosted Manchin for a meeting at the White House where he failed to persuade the senator into agreeing with the $3.5 trillion bill…

Manchin held his position and appears willing to let the bipartisan bill hang in the balance, given his entrenched opposition to many of the specific proposals in the $3.5 trillion spending package, Axios was told.
Joe Biden met with Sen. Manchin to convince him to back his massive socialist takeover of the United States. But it seems like Joe can't even convince one of his own to get behind his agenda.
From what we've seen, Biden's biggest argument was that Manchin's opposition to this bill would jeopardize the $1.2 trillion "infrastructure" bill already passed in the Senate. We know that Pelosi is holding that bill hostage, trying to link it with the socialist package in the House.
But that was a pretty weak argument. Manchin appeared unswayed by this move.
We really have to wonder just how unimpressive Biden is if he can't even win over one of his own. Biden is a failure on foreign issues, domestic security, the economy, and now negotiations.
Donald Trump famously negotiated major deals while in office. He even got Mexico to agree to hold onto migrants trying to get into the country. It was a sure thing to get members of his own party to agree to his agenda.
But Biden is such a pathetic "president" that he can't even sway a patriotic man like Manchin.
Just how bad is this bill? We should be very worried if it makes it through, one form or another.
Key Takeaways:
Joe Biden failed to persuade Sen. Joe Manchin to support his $3.5 trillion socialist package.
The two met this week, but Biden could not make a convincing argument.
Manchin is the only senator standing in the way of this socialist takeover of the U.S. economy.
Source: Breitbart