Biden Slips Up Badly During Live Speech – Claims He Rode On Amtrak "Every Day For 36 Years As Vice President"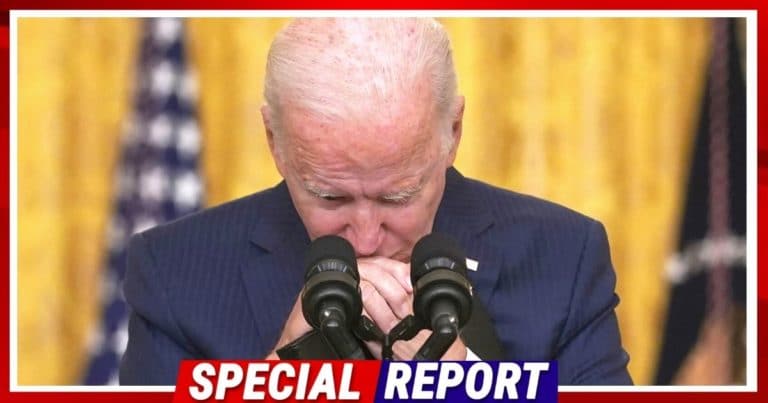 It has been a difficult year for President Joe Biden. From the southern border situation to Afghanistan to the supply chain crisis, POTUS continues to face a myriad of major problems.
And on top of it all, the Commander-in-Chief keeps making public gaffes. Democrats often dismiss these slip-ups as trivial, but many believe they're more evidence of the President's decline.
His latest mistake might forever be known as the "36-year blunder."
Above all else, it seems Biden has the most trouble with names, numbers, and dates. If he's not reading these directly off a teleprompter, it seems clear that he's likely to bungle these facts.
Numerous times, the President has temporarily forgotten names of important officials, and he's been known to mess up statistics.
None of it creates confidence in the populace, that's for sure. And though the aforementioned issues are the biggest problem, these blunders aren't helping Biden's plummeting approval ratings.
For example, the President recently gave a speech in Scranton, Pennsylvania — and once again, he stumbled badly.
Via Washington Examiner:
President Joe Biden fumbled his words during a Wednesday speech, appearing to say he commuted on Amtrak for 36 years as vice president.
President Biden on riding Amtrak:

"I commuted every single day for 36 years as Vice President of the United States…" pic.twitter.com/M17Iy5H6sd

— Townhall.com (@townhallcom) October 20, 2021
Well, Biden got part of it right, at least.
He did travel a lot between Washington and his home in Wilmington, Delaware when he was in the Senate. And he did the same thing when he served as vice president in the Barack Obama administration.
But of course, that term was only between 2009 and 2017, which is 8 years. Not 36.
These flubs are apparently a big reason why the White House keeps the President on a short leash. It often appears that Biden's team ensures he doesn't stand up there for very long.
On top of that, there are reports that Biden only answers pre-set questions, and even mutes some of his responses.
Overall, it doesn't seem like the President makes very many public appearances, especially in comparison to his predecessors. And this "36-year" gaffe is probably a reason why.
There are other times when Biden seems to come clean off the rails.
For instance, last month when he was introducing Michigan Gov. Gretchen Whitmer, he thanked the lieutenant governor, saying he "covers her in every way, both in terms of physically, and mentally, and every other way."
None of this reflects well upon the leader of the free world.
As a result, many Americans have the same question right now:
If these mistakes really are indications of a cognitive decline, and the country is facing serious issues right now, how can the President possibly help us?
Key Takeaways:
President Joe Biden made another public gaffe while delivering a speech in Scranton, PA.
He claimed to have commuted every day on Amtrak trains as vice president — for 36 years.
It's another example of Biden flubbing numbers in his speeches, and many citizens remain concerned.
Source: Washington Examiner