Biden Meeting With Gold Star Families Goes South – One Gold Star Mom Claims Joe Rolled His Eyes At Her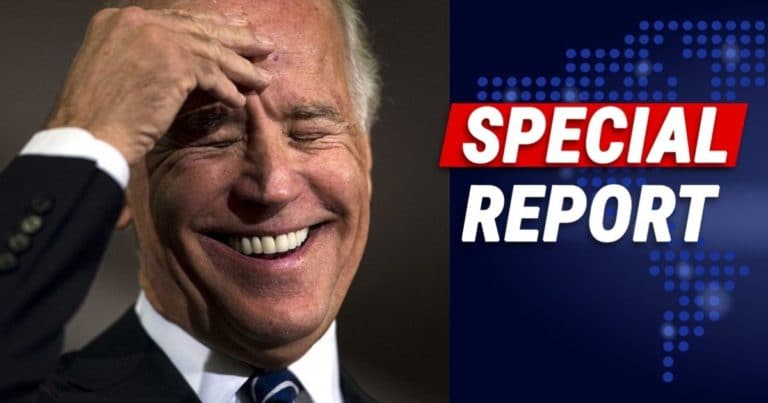 What's Happening:
Many Americans don't believe Biden truly cares about the fall of Afghanistan. And he's not making the situation much better.
On Biden's watch, 13 American servicemen were lost in a attack last week. His failure to properly withdraw our troops and evacuate civilians may have led to that tragedy.
The Democrat later tried to meet with some of the parents of those lost. It did not go well.
From Daily Wire:
Gold Star father Darin Hoover, whose son Marine Staff Sgt. Taylor Hoover was killed in the terror attack at the airport in Kabul last week, refused to meet with President Joe Biden following his son's death…

"We didn't want him anywhere near us. We as a family decided that that was the way it was going to be."
And he probably had a good reason for not visiting Joe. Because look what happened, folks. From TheDaily Wire:
Shana Chappell, the mother of Marine Corps Lance Cpl. Kareem M. Nikoui, slammed President Joe Biden in a post on social media for the way that he acted when the two met…

Chappell expressed the pain she was experiencing of never again being able to enjoy her son when Biden "tried to interrupt me" with his own "sob story"…

"You then rolled your f***ing eyes in your head like you were annoyed with me and I let you know that the only reason I was talking to you was out of respect for my son."
Wow, this is pretty disgusting behavior from the so-called Commander in Chief of our Armed Forces.
Several parents were present at the transfer of their children. Joe Biden was also there (reportedly checking his watch—I guess he was pretty busy).
One family refused to even meet with the man. They clearly blamed him for their son's death and couldn't even look him in the eye.
One mother did want to look him in the eye. She tried to express the grief she was feeling, because of her son's death.
Joe Biden reportedly interrupted her to talk about himself. When she responded, she claims the man rolled his eyes at her.
While we can't confirm her account, it's pretty consistent with Joe Biden's reputation.
From all appearances, he is an arrogant man who doesn't even seem to want to be president.
He has shown tremendous callousness for the lives lost in Afghanistan. It doesn't seem that he even cares that an entire country has fallen to a terrorist regime.
He can't even muster a shred of kindness for a mother who just lost her son! And it was his fault he died in the first place.
I'm not sure we even have words to describe this sort of treatment.
All we can say, though, is President Trump would have never acted like this.
Key Takeaways:
Gold Star parents were confronted with seeing Joe Biden after losing their sons.
One family refused to even meet with the man, blaming him for their son's death.
Another mother spoke with Biden, who rolled his eyes at her.
Source: Daily Wire, Daily Wire