Biden's Free Handouts Just Failed Him – His Approval Numbers Don't Bounce Back After Free Tests And Masks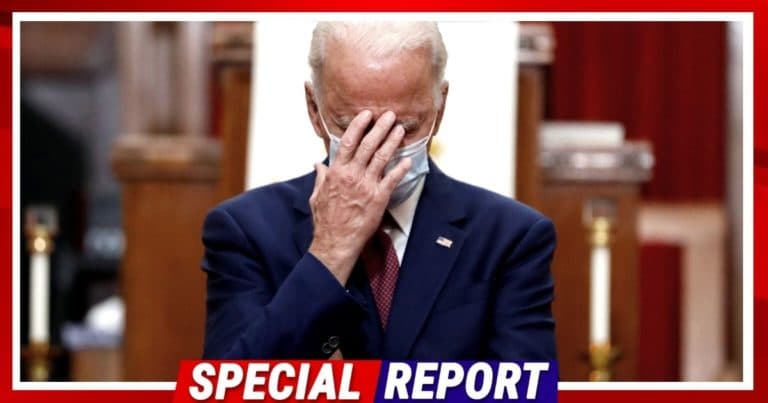 What's Happening:
Ever since last year, we've been watching Biden's approval sink. This is because he's failed to competently handle just about every crisis that comes across his fake, TV set-style desk. We've seen him torch the economy, numerous industries, even Afghanistan. But the worse has been his handling of the 2020 crisis.
Biden failed to ensure that testing would be available to everyone who needed it. Testing is a vital part of treatment and recovery, and not providing it was shocking to many Americans.
His administration scrambled to provide tests in the mail and to deplete our strategic stockpile (built up by Trump) to give out masks. But despite all this generosity, Biden's numbers remain in the gutter.
From Newsmax:
An overwhelming majority of Americans say they agree with the Biden administration's move to mail free COVID-19 at-home tests to people who ask for them and to make free N95 masks available, but their approval of the initiatives haven't boosted President Joe Biden's numbers so far, according to a new poll.
Biden's numbers on the crisis are still low, even in that poll. And it's more bad news from Rasmussen.
From Rasmussen Reports:
The Rasmussen Reports daily Presidential Tracking Poll… for Tuesday shows that 40% of Likely U.S. Voters approve of President Biden's job performance. Fifty-nine (59%) disapprove.

The latest figures include 18% who Strongly Approve of the job Biden is doing and 50% who Strongly Disapprove. This gives him a Presidential Approval Index rating of -32.
Despite handing out free tests and masks, Biden's approval continues to drop. That's probably because, despite giving out freebies, Americans don't believe Biden knows what he's doing. As is the case with most problems, Biden's administration is just reacting, stumbling from one fire to the next. He doesn't appear to be leading and his team seems to be unequipped for their jobs.
Biden has not made good on his promise to "build back better." In fact, most Americans believe they are worse off than they were last year. That is because they are struggling to make ends meet thanks to out-of-control inflation. And a free mask is not going to change that.
The administration staff does not appear qualified to lead. Biden's only priority last year and even this year was to pass radical bills in Congress—including a massive spending bill and extreme changes to our elections. Nothing else seemed to interest him, except for mandates that choked our liberties.
So, keep giving out those bread and circuses, Biden. It won't change a thing.
Key Takeaways:
Biden depleted the strategic stockpile to give out masks and tests.
This flood of free stuff did not change his sinking approval.
Biden's approval has declined since last year and has not recovered.
Source: Rasmussen Reports, Newsmax