Biden Shocks America with Health News – This Is Extremely Disturbing, Patriots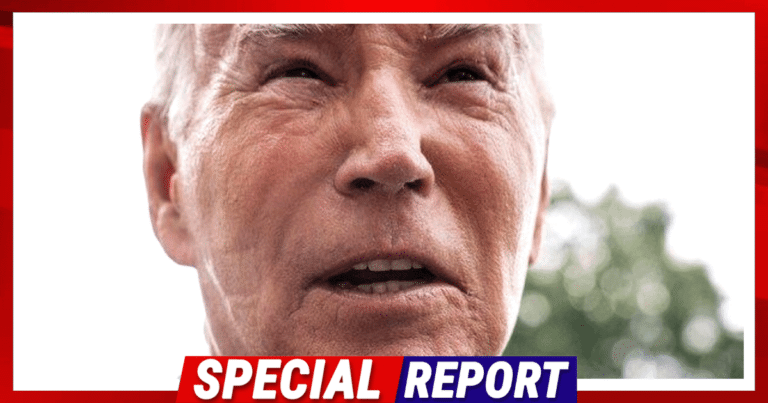 What's Happening:
It's no secret that most Americans doubt Biden's fitness for office. His administration has refused to release his full medical records. And the Democratic establishment pretends like the man's perfectly fine, despite a long history of disturbing gaffes and obvious signs of his decline.
It has been the worst case of "the emperor has no clothes" since… well the original story!
But it looks like Biden's health is getting worse. Since 2008, Biden has noted his struggles with sleeping at night. He's been diagnosed with sleep apnea, a condition that can lead to death if not treated. Now, he has had to admit that the condition is much worse and requires a machine to keep him alive.
From Breitbart:
President Joe Biden has begun using a continuous positive airway pressure (CPAP) machine at night to treat his sleep apnea, the White House announced on Wednesday…

Biden, the nation's oldest president at 80, first disclosed his recurring issue with sleep apnea in his 2008 medical records. Biden's 2019 medical records revealed he had multiple surgeries on his sinus and nasal passages.
Biden needs the aid of a CPAP machine so he can breathe at night, as his sleep apnea has gotten worse. The White House tried to spin this as nothing, but let's get real here. What president comes off as healthy and robust when they need a machine to keep them breathing at night?
Joe Biden's 80 years old. He can barely speak. He shuffles around like a nursing home patient. And now, he needs a CPAP machine.
Is this the kind of man we want leading the United States of America? Give me a break. His top rival, Robert F. Kennedy Jr., just posted a video of himself doing push-ups in the Sun. Meanwhile, Biden can't even sleep when he's in a comfortable bed.
Yet Democrats want this ancient liberal puppet to stay in the most important office on the planet because he does whatever they tell him to do.
Under Joe Biden, America has seen radical decline. Inflation has robbed most Americans of their wealth. His energy policies have shipped our money to foreign nations. Our border is out of control. And he's funding wars overseas.
That's not the record of a healthy, sane man. And now, it's not even the record of a man who can breathe on his own at night.
Key Takeaways:
Joe Biden now requires the aid of a breathing machine at night.
The 80-year-old Democrat has apparently suffered from sleep apnea for many years.
His declining health has become a major concern for most Americans.
Source: Breitbart