After Joe Biden Flops In Iowa Polls – John Kerry Admits He Could Stop Bernie, But Now He's Strongly Denying Reports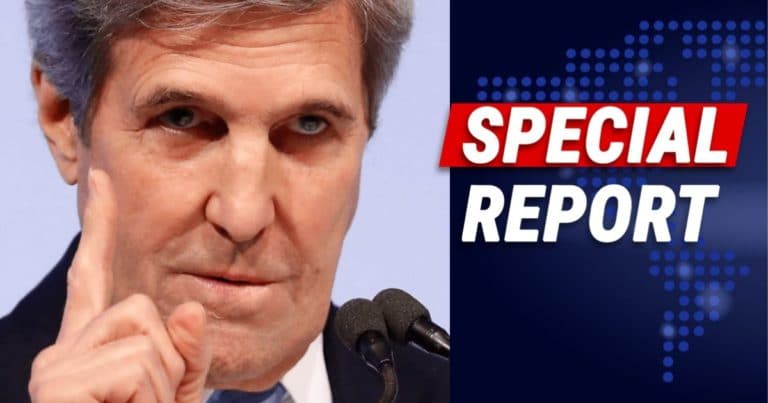 The first caucuses for the 2020 primaries are this week. And despite the establishment media's best efforts, Bernie Sanders is leading.
Joe Biden was the frontrunner for a long time. But it looks like the former vice president is slowing down, perhaps thanks to his own controversies.
Sanders just might sweep Iowa and New Hampshire, setting him up for a nomination win.
Sounds crazy, but this is where the Democratic party is at in 2020: nominating an open communist independent to run for president.
Naturally, some establishment Democrats are none too happy that voters might pick Bernie.
So, John Kerry was overheard mulling a drastic move.
From NBC News:
Former Secretary of State John Kerry — one of Joe Biden's highest-profile endorsers — was overheard Sunday on the phone at a Des Moines hotel explaining what he would have to do to enter the presidential race amid "the possibility of Bernie Sanders taking down the Democratic Party — down whole."
Wait a minute, what? John Kerry—who lost the 2004 Election to George Bush—was talking about entering the race at the last minute?
According to reports, he's considering what he would have to do so he could enter the race.
This kind of late entry is a longshot, at best. But it tracks with other reports about the establishment trying to interfere with Bernie's chances.
Then there's the news that Kerry isn't pleased that this information apparently leaked. And he's trying to backtrack.
From Daily Wire:
Former Secretary of State John Kerry exploded on Sunday over a report suggesting that he was thinking about jumping into the 2020 Democrat primary race…

Kerry quickly responded to the report on Twitter, writing: "As I told the reporter, I am absolutely not running for President. Any report otherwise is f***ing (or categorically) false. I've been proud to campaign with my good friend Joe Biden, who is going to win the nomination, beat Trump, and make an outstanding president."
Woah. Kerry took to Twitter to deny the rumors that he'd enter the race. He even dropped an expletive—but later deleted the tweet.
Maybe he changed his mind? Or maybe Joe Biden caught wind of Kerry's plans and put the kibosh on it?
Or maybe Kerry remembers how W defeated him sixteen years ago and decided the second time wasn't the charm.
Either way, this is the takeaway: with the primaries happening NOW, the left still doesn't know what it's doing.
Not a single candidate has emerged who makes them confident they can beat Trump. Nobody on those debate stages appears to have what it takes to win over the country.
So, with each new day, more rumors and speculation emerge. It's really amazing to watch a party fall apart.
SHARE if you think John Kerry doesn't stand a chance against Trump either!
Source: NBC News, Daily Wire