Joe Biden Takes Off The Kid Gloves – Claims He's Got Dirt On His 2020 Rivals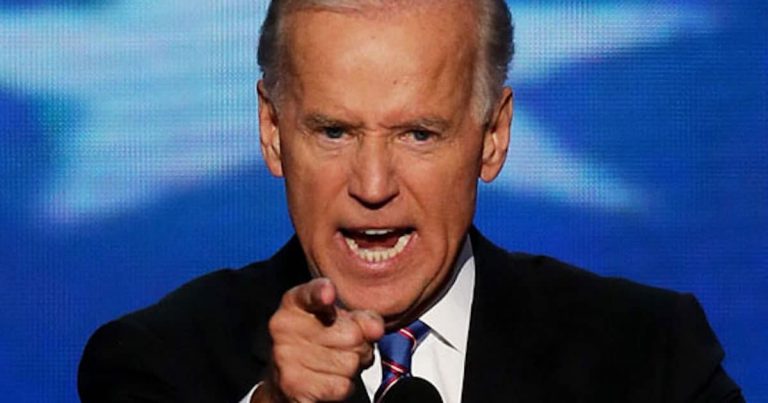 Biden claims to have dirt on his competition, and he might actually use it…
Back in May, Democrat presidential candidate Joe Biden said he wouldn't go after his colleagues.
In fact, he clearly refused to attack his rivals:
"I will not speak ill of any of the Democratic candidates … I will not do it," he said at the time.
But after his opponents went after his past, it seems Joe is willing to change his tune.
During a recent CNN interview, the presidential hopeful hinted that he has "information" that he could theoretically use to his advantage.
From Washington Examiner:
"I mean, I get all this information about other people's pasts, and what they've done and not done.

And you know, I'm just not going to go there. If we keep doing that … I mean, we should be debating what we do from here."
Whoa, Joe! Are the knives coming out?
This could be a veiled threat and spark more Democrat in-fighting.
Biden's apparent warning comes after he was grilled about his stance on race issues in the past, which has left the former front-runner in a difficult situation.
Recently, Sen. Kamala Harris (D-CA) criticized Biden's opposition to federally mandated busing back in the '70s.
Then she mentioned his comments concerning his cooperation with "known segregationists" in the Senate.
Now, it seems that Biden is reacting to these digs at his past by sending his fellow Democrats a reminder:
He has information about their pasts as well, and if push comes to shove…
Up to this point, Biden has come across as a relatively genial and non-intimidating candidate, but this could mark a shift in his campaign persona.
If he's now willing to sling a little mud (in response to perceived attacks on his character), the entire tone of the Democratic presidential push could change.
"Uncle Joe" might suddenly become more aggressive and hard-nosed, and actually fight for the nomination.
Do you want to see Democrats beat themselves to a pulp before running against Trump?
Source: Washington Examiner