Biden Nailed with "Fake Names" Evidence – New Document Dump Is Even Worse Than Hillary's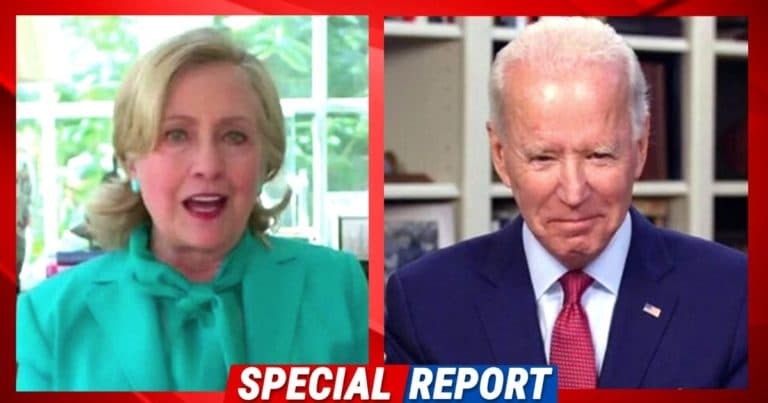 What's Happening:
Joe Biden is being outed again for hiding his actions while serving as vice president. The latest treasure trove of documents being released may far exceed Hillary Clinton's email scandal.
This latest exposure of Biden's secretive actions was prompted by a Freedom of Information Act (FOIA) lawsuit against the National Archives and Records Administration (NARA). After facing a court order, NARA delivered what many people suspected about Biden's dealings.
From the Daily Caller:
NARA has found 82,000 pages of potentially responsive records in connection with the pseudonyms Joe Biden appeared to use while he was vice president.
These records were noted in a status report filed in federal court Monday with the Southeastern Legal Foundation (SLF) as part of its ongoing FOIA lawsuit seeking copies of all the emails Joe Biden sent using his aliases. Yes, readers, that is 82,000 pages of records that NARA is processing and preparing any nonexempt responsive documents for "production on a rolling basis."
This cache of connections between Biden and his fake names is so large that NARA is rolling out the records over time. SLF and NARA are trying to narrow the scope of the FOIA request to process and produce responsive documents faster, the court filing states.
This massive records release of Biden's connections to fake names in emails follows a separate FOIA lawsuit by the America First Legal Foundation. The legal action generated a status report with NARA in early October identifying nearly 20,000 emails between the president's son, Hunter Biden, and his investment firm Rosemont Seneca. This also exposed more than 4,000 emails with Hunter Biden himself.
At the center of these FOIA lawsuits is how Joe Biden appeared to use fake names for government purposes when he was vice president. The SLF lawsuit previously resulted in NARA disclosing more than 5,000 emails Joe Biden sent from his apparent pseudonyms including Robin Ware, Robert L. Peters and JRB Ware.
Documents allegedly show Joe Biden using the Robert L. Peters moniker to connect with Ukraine's then-President Petro Poroshenko for a meeting. This connection was discovered in an email found on Hunter Biden's abandoned laptop archive.
NARA hasn't been quick to reveal all the documents requested in the lawsuits. The U.S. House Oversight Committee has been able to view the Ukraine related email and a small number of the emails with Joe Biden's pseudonyms. That hasn't been sufficient for Republicans wanting to get the whole picture of how Joe Biden was handling business.
Committee members also asked NARA turn over records in connection with Hunter Biden's flights on Air Force Two and Joe Biden's vice-presidential office's communications with Hunter Biden and his business associates. There has also been a House Oversight letter in September to the State Department requesting records connected to the Obama administration's push to fire Ukrainian prosecutor Viktor Shokin.
Facing court orders, NARA has rolled out these large document releases in just the past few months. As more information about Joe Biden's actions is released, people must wonder how much wider and deeper this network of fake names and personal business dealings extends.
Key Takeaways:
National Archives obeys court order to release more Joe Biden records.
Freedom of Information Act lawsuits expose Biden's email connections.
This latest archive release contains tens of thousands of Biden documents.
Source: Daily Caller