After President Biden Flees the United States – Critics Hammer Joe for Skipping Ohio, Going to Kyiv Instead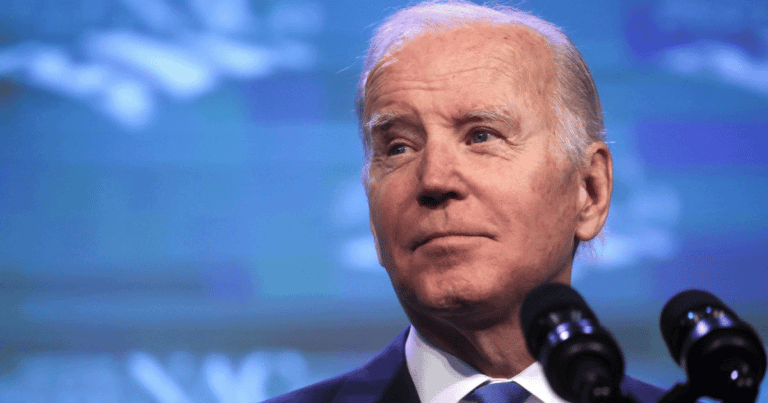 What's Happening:
All signs point to the train derailment in East Palestine, OH to be one of the worst environmental disasters of our time. It will probably make Flint and other similar disasters look like child's play. The toxic chemicals that spilled into the water system (not to mention the air and ground) could harm the area for decades to come.
So, where is Joe Biden during all this? Thousands of Americans are in danger. His own administration is responsible for this crisis. But instead of going to Ohio, to encourage struggling Americans, he secretly left the country. To support his favorite pet project: war.
From Fox News:
President Biden arrived in Ukraine's capital city of Kyiv early Monday morning in a surprise visit just ahead of the one-year anniversary of Russia's invasion of the country.

Biden delivered remarks and met with President Volodymyr Zelensky at Mariinsky Palace to announce an additional half-billion dollars in U.S. assistance. The new assistance includes shells for howitzers, anti-tank missiles, air surveillance radars and other aid but no new advanced weaponry.
Of course. Biden is neglecting a real disaster, hurting real Americans. To support a war we have nothing to do with. Biden pledged more of our money to help fund this seemingly endless war. Mind you, he's not feeding babies or helping the millions of Ukrainians that have fled their homes.
He's throwing our money at the military-industrial complex. Biden is buying more guns, bombs, and equipment from defense contractors (i.e.: lobbyists) and giving them to Ukraine. All so the country can continue fighting this war instead of negotiating peace.
Why isn't Biden putting time and energy into hosting peace talks? Why isn't he doing something that will end the war–instead of putting billions into the hands of already rich weapons manufacturers?
(For someone who wants to take guns from Americans, he certainly loves companies that make guns, bombs, missiles, and more!)
Meanwhile, Biden isn't lifting a decrepit, old finger to help Americans as they suffer in Ohio. Government officials chose to burn off the deadly chemicals from the train derailment. Not because that was the safe choice, but to quickly clear the tracks so other trains can run.
Now, they are scrambling, claiming it is safe for people to return home. But nobody is buying it. This is a real crisis that deserves the attention of our government. But Biden would rather bankrupt the country to fund a war that isn't ours.
Perhaps we should revisit that whole impeachment thing?
Key Takeaways:
Joe Biden secretly flew to Ukraine, promising more money to fund the war.
Biden has not gone to Ohio, the scene of a disastrous train derailment.
Biden has spent billions to fund a war, instead of brokering peace.
Source: Fox News