Biden's Pet Project Just Hit a Massive Roadblock – Federal Court Could Cancel Joe's Biggest Handout Yet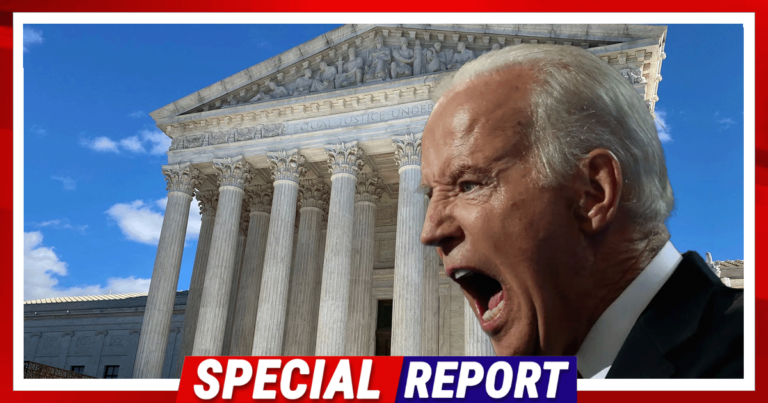 What's Happening:
Joe Biden doesn't care about the law. He's going to do what he wants, when he wants, and how he wants. His only goal is to appease the leftist zealots he believes will get him reelected.
Biden has been slammed by the courts multiple times over his unconstitutional policies and executive orders, but he continues to thumb his nose at the law. He believes everyone should do as he says no matter what and that taxpayers should bow down in loyalty to pay for his crazy schemes.
And Biden loves to dangle carrots under the noses of higher education indoctrinated young people who don't believe they should be responsible for their personal decisions. But before Biden can blow billions of dollars more of taxpayer money, he is going back to court after a new lawsuit.
From Fox Business:
Two think tanks are urging a federal court to block the Biden administration's scaled-back plan to cancel $39 billion in student loans, arguing that the plan exceeds the administration's authority.

Friday's lawsuit requested for a judge to rule the latest debt forgiveness plan as illegal and to block the Department of Education from carrying it out until the case is decided.
Biden will not stop pandering to his "target demographic" of people who want the government to rule their lives and give them everything for free. As expected, Biden's goons at the Department of Education claimed that "right wing" elements were trying to keep poor, misguided college graduates in debt. They should have all stayed in college and taken more business and finance courses than humanity studies.
The free market think tank Mackinac Center for Public Policy and libertarian think tank the Cato Institute are party to the lawsuit with the New Civil Liberties Alliance providing legal counsel. They aren't backing down in trying to stop Biden who has already been shot down by the Supreme Court in June for his previous unconstitutional plan.
This second round of student debt forgiveness isn't cheap. Estimates have it bankrolling $39 billion in loan debt relief for an estimated 800,000 borrowers. The U.S. government could build a lot of new roads or housing for poor people and get all these broke college grads new jobs slinging a shovel or hammer. Once they build up a few calluses on their hands they might appreciate the value of a dollar and owning up to their personal debts.
Biden's continued attempts to go around Congress and the Supreme Court need to be stopped at every turn. Too many people who have already worked hard for their money don't need to be paying for freeloaders who want someone else to fix their mistakes.
Key Takeaways:
Think tanks want federal court to tank Biden's latest handout scheme.
Billions of dollars in student debt at stake under new relief plan.
Student debt cancellation plan could be another big Biden loss.
Source: Fox Business