Biden Says He's Got Plans For Obamas – Hints At Two Leading Roles For Them Both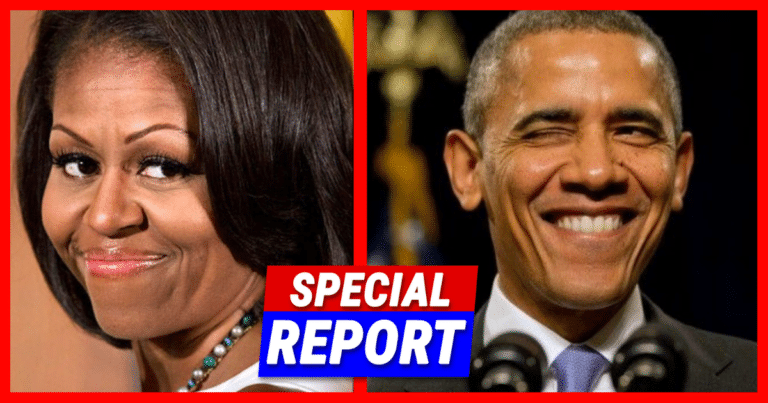 We are just days away from the first primary elections.
Soon, we will see which of the left's 2020 "winners" will jump ahead. Everyone thought Joe Biden was a shoo-in.
But recent polls revealed "Crazy" Bernie Sanders might be taking a lead.
Maybe Joe is struggling to connect with Democrats. Maybe he is getting too desperate to win them over.
Because, once again, he made a promise about what would do if elected president and boy…it is out there. I know he's desperate to remind Democrats of "the good ole days" with him and his buddy Barack.
But, cmon Biden. This is just getting pathetic.
Check it out from Breitbart:
Joe Biden suggested on Tuesday that the Obamas would be appointed to high office if he were elected in 2020, telling voters the former first lady could be his running mate, while her husband was destined for the Supreme Court, provided he wanted the appointment.
Yikes. It's really hard to take Biden's words seriously.
The man has a history of making jokes that almost sound sincere. He will say something that the audience thinks is a joke and they will laugh. But is Joe actually joking? Its honestly very hard to tell.
He suggested during an event that, should he be nominated, that he'd pick Michelle Obama as his running mate.
Biden went on to say that he'd love to appoint Barack Obama as a Supreme Court justice. WHAT?
Was he just joking to rile up the crowd? Or is this his actual plan?
He went on to say the Obamas are "such decent honorable people." Now we know he was joking then, right? 😉
It's kind of shocking to think that Biden would bring the Obamas back into the White House. Or worse yet, that Biden would give Obama a life-long seat on the highest court of the land.
If you think he was just joshing around with the crowd, keep in mind this isn't the first time he floated these ideas.
Last September, he talked about picking Michelle Obama as a running mate. In December, he told Iowa voters that he would appoint Barry Obama to the SCOTUS.
Does Biden think this is a winning strategy?
Maybe he thinks if he keeps talking about the Obamas, he would win over primary voters. It seems he's desperate to remind people that he was VP. Kinda sad that he has to remind people honestly.
What he doesn't realize is that many voters elected Trump in 2016 because of Obama. Barack Obama made plenty of promises during his campaigns but did little to fulfill them.
Millions of Americans were sick and tired of the left's empty words. Many who elected Obama jumped ship to elect Donald Trump.
If Biden were smart, perhaps he'd just leave them out of the conversation.
Do you EVER want to see the Obamas back in power again?
Source: Breitbart