New 2020 Poll Should Worry Biden – Almost 4 In 10 Voters Believe Joe Has Come Down With Dementia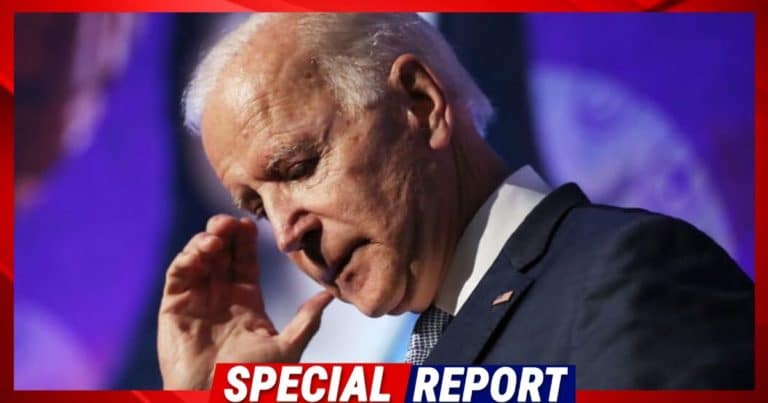 What's Happening:
At the start of the primary season (last year), Democrats had over twenty candidates fighting for the nomination. Despite that lineup, they ended up with 77-year-old Joe Biden.
Apparently, he was considered the "safe," moderate candidate that could win voters from Donald Trump.
But in recent months, many have watched Biden's performance and grown worried. And now, a new Rasmussen poll is confirming what Americans are thinking:
Nearly four-out-of-10 voters believe Joe Biden has dementia. Most voters, including just over half of Democrats, feel it is important for the likely Democratic presidential nominee to publicly address the issue.

The latest Rasmussen Reports national telephone and online survey finds that 38% of Likely U.S. Voters think Biden is suffering from some form of dementia.
The poll is telling in and of itself. Four out of ten voters think that Joe Biden is suffering from a debilitating mental disorder. That includes twenty percent of Democrats. Thirty percent of independents believe the same. That spells trouble for Biden's campaign.
This appears to line up with the troubling performance by Biden in recent interviews, appearances, and campaign videos.
The candidate has trouble keeping track of where he is and what he is saying. He appears lethargic, unable to finish sentences pre-written for him.
In several instances, his handlers had to cut interviews short to avoid further problems.
Our Take:
In the past, Democrats have attacked Trump's mental fitness, saying he should be removed according to the 25th Amendment (despite the fact that is not what the amendment is for).
But despite their claims, Trump appears clear and articulate. Many say he has the energy of a much younger man.
What's even more troubling is how the Democratic Party appears to be ignoring the warning signs. Back in 2016, some worried that Hillary Clinton was ill (especially after footage of her collapsing went viral). The Democrats ignored it and she lost.
Yet again, the Democrats are putting forward a candidate who might be very ill. Worse than that, he might be suffering from a mentally degenerative disease. Is that who Americans want running the country?
More than that, are Democrats willing to let this man run—even if he's very ill? Are they so determined to defeat Trump, that they'd ignore Biden's possible decline?
Key Takeaways:
A new poll reveals that almost 4-in-10 voters think Biden has dementia.
This is consistent with troubling appearances made by Biden in recent months.
Democrats ignore these concerns, despite how it will affect the election.
Source: Rasmussen Reports